Timeline of the Attacks
Iguala, Mexico
September 26, 2014
Click and drag to move map
drag and drop yellow figure icon (top left corner) to visit street view
(1) 9:10PM Ayotzinapa students commandeer buses from the Iguala bus station.
(2) 9:30PM Police shoot at a caravan of three buses in the city center.
(3) 9:45PM Police block the road and shoot at the three buses: 3 students are severely wounded, and 25 are detained and disappeared.
(4) 9:45PM Police stop and destroy a bus. 15 to 20 students are beaten, detained and disappeared.
(5) 10PM Police stop another bus. 14 students threatened and chased into the hills.
(6) 11:15PM The 14 students try to regroup with their classmates. Police shoot at them and try to run them over.
(7) 11:30PM Armed men stop and shoot at a bus carrying a soccer team and passing vehicles: three people are killed and nine are wounded.
(8) 11:40PM Police shoot at the same scene shoot at passing vehicles: at least three people are wounded.
(9) 12:30AM Armed men open fire on a press conference students are holding with supporters and classmates who came to their aid: 2 students are killed, and many more are wounded.
(10) 12:40 AM Soldiers enter a clinic where students are seeking medical help for a wounded classmate. They are lined up at gunpoint and told, "Give us your real names or no one will ever find you."
(11) 1-2AM Student Julio César Mondragón Fuentes is murdered after fleeing the press conference shooting, and his body is found with no eyes or face.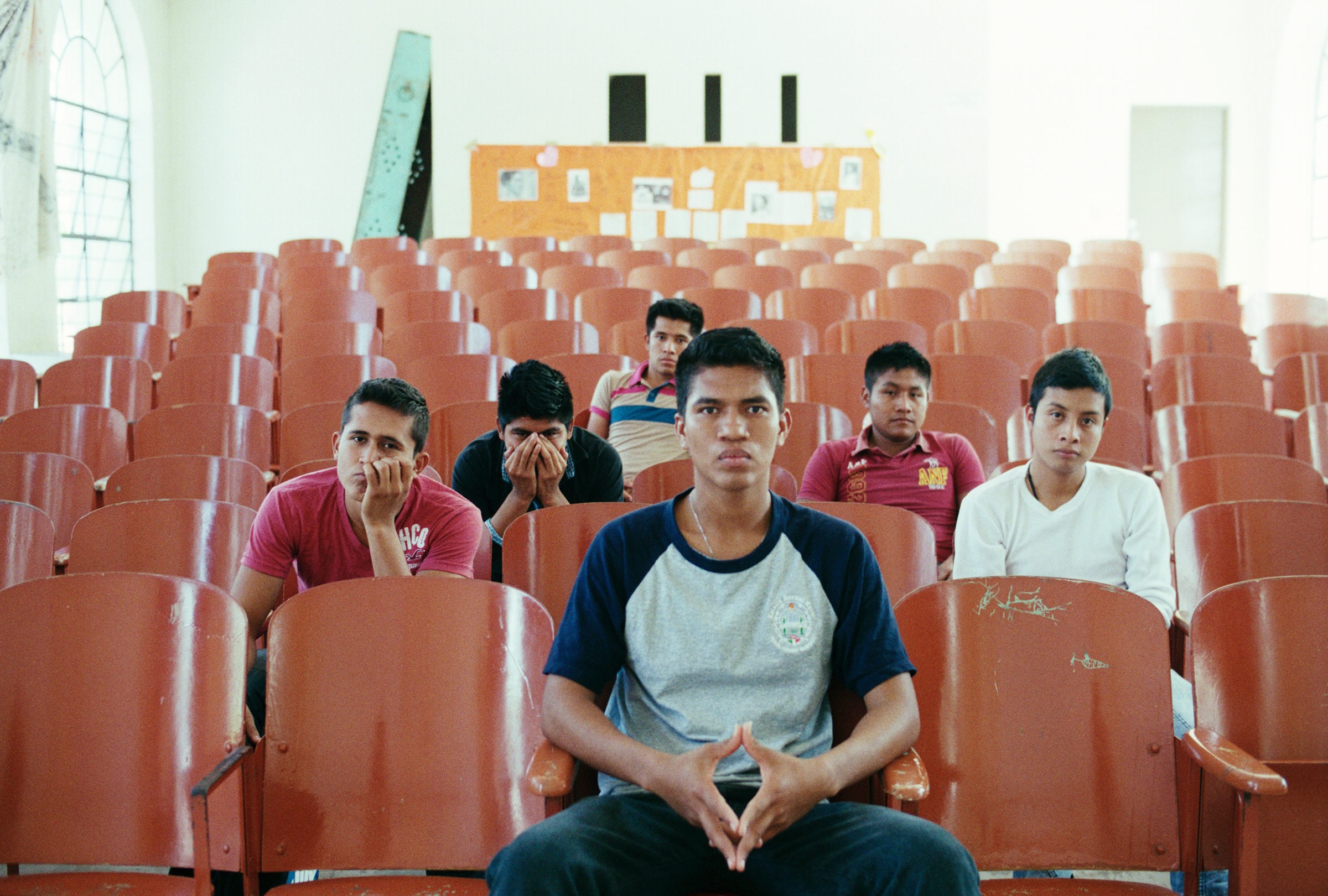 Survivors of the attacks in the auditorium of the Ayotzinapa Teachers College. Their 43 missing classmates are mostly 18 year old freshmen. Tixtla, Guerrero. March 16, 2015.
The Disappeared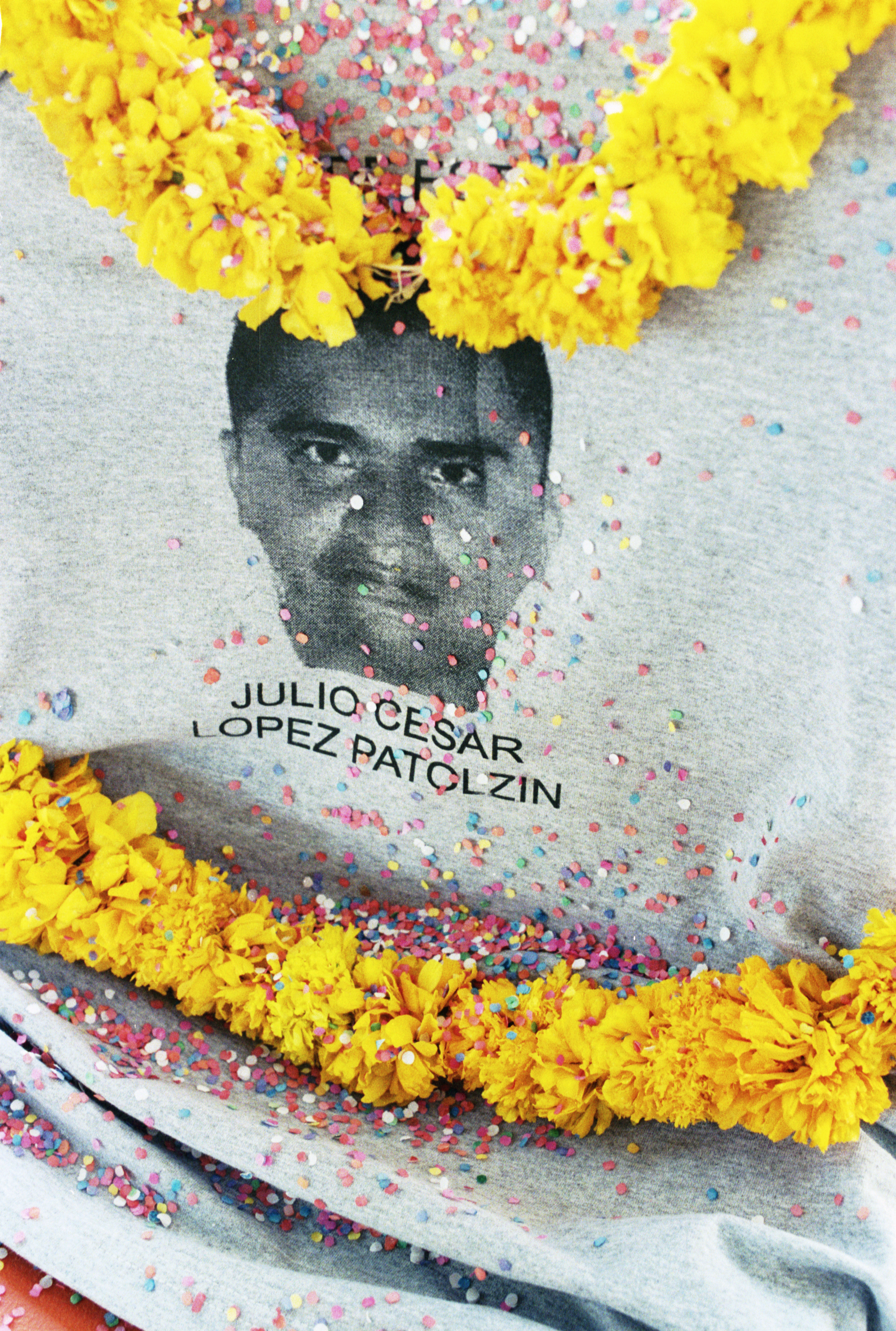 Empty chairs that represent the 43 missing students and three murdered students fill the basketball court at the Ayotzinapa School, located in the town of Tixtla, Guerrero. Relatives of the disappeared have lived at the school since the disappearance, and it has become their base for organizing protests and search efforts. In the photograph, the chair for missing student Julio César López Patolzin on his 25th birthday. January 29, 2015.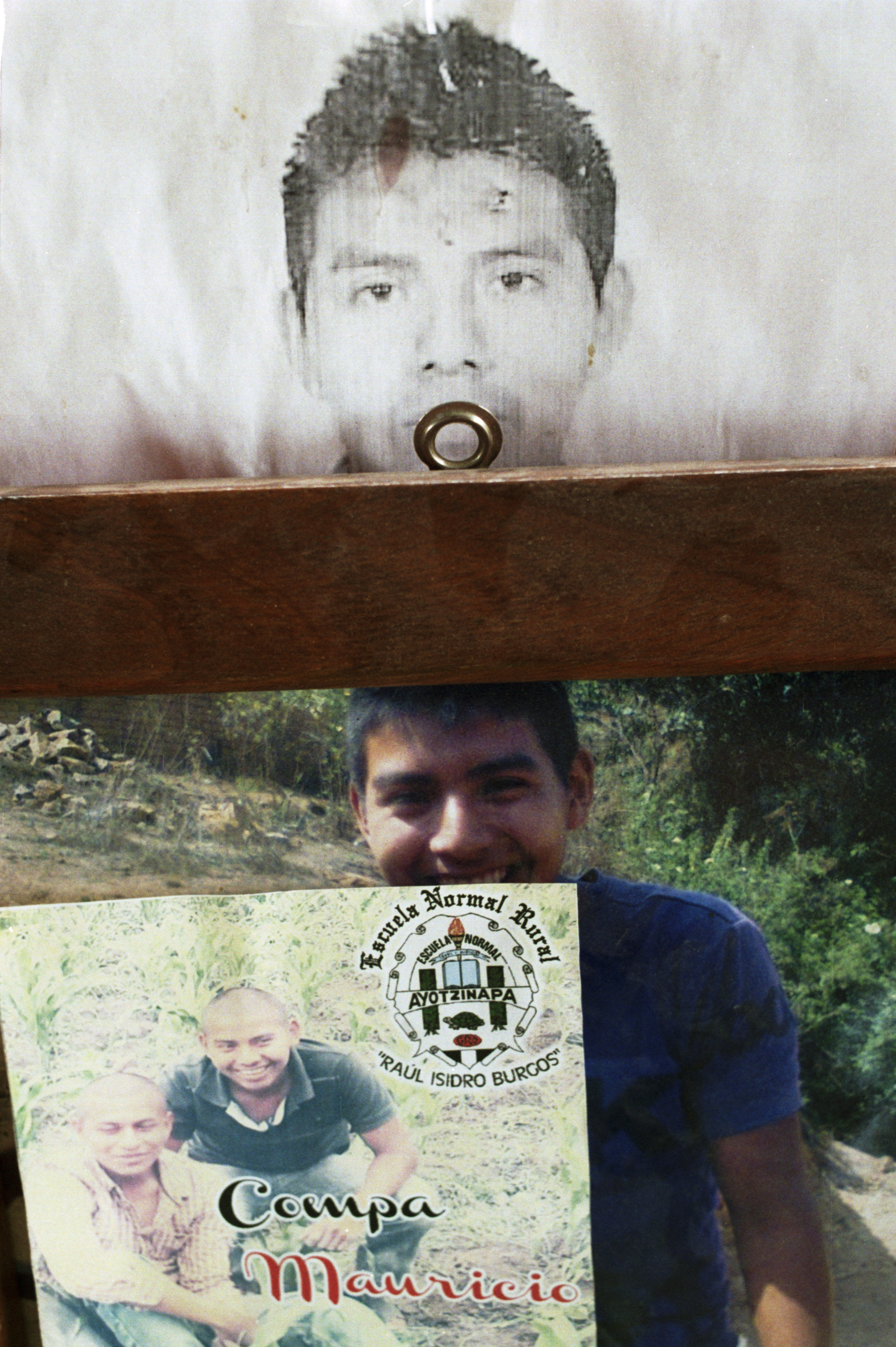 The chair of missing student Mauricio Ortega Valerio, 18 years old. A speaker of Tlapaneco and Spanish, he was studying in the bilingual teaching program.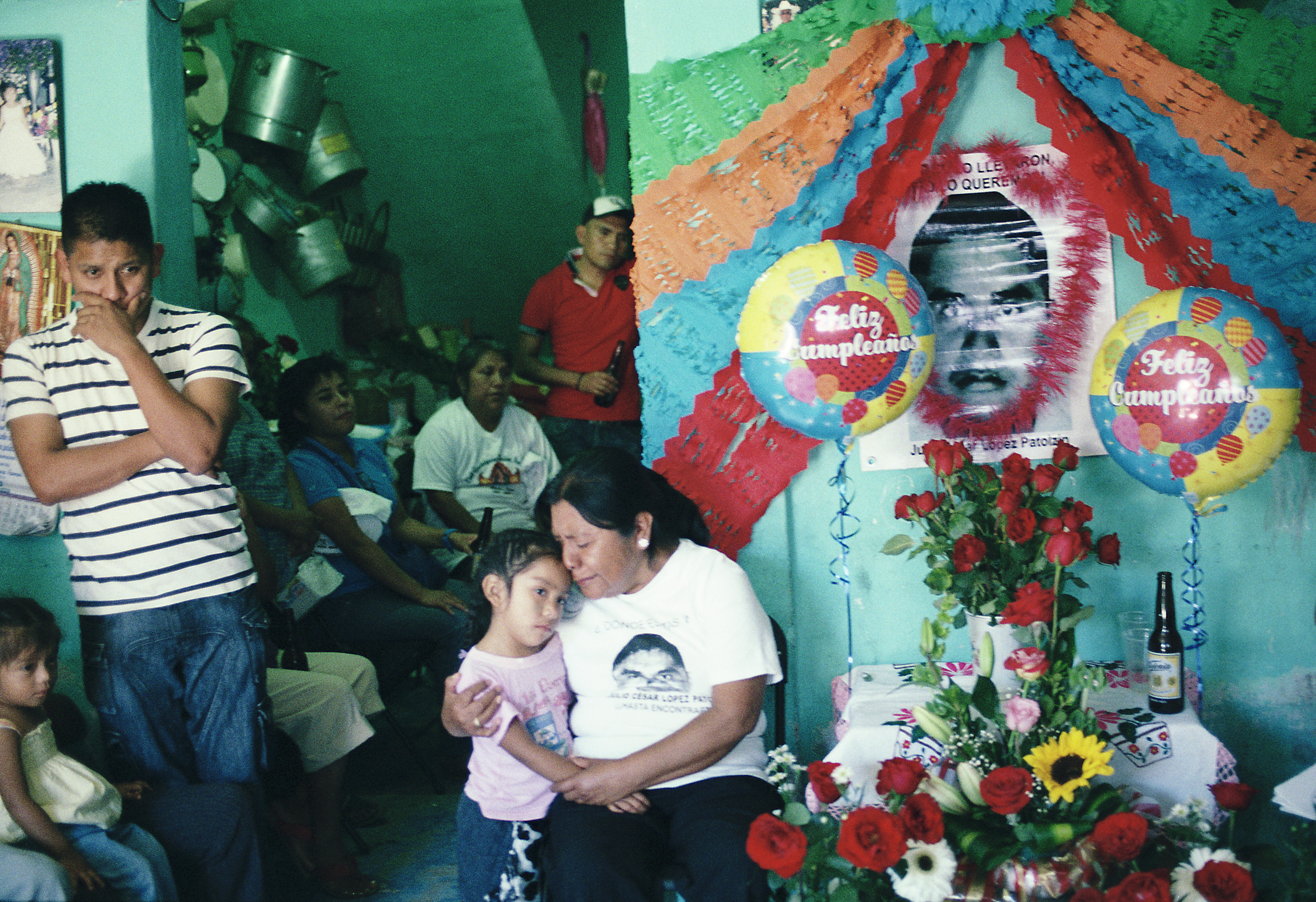 The family of Julio César López Patolzin celebrates his 25th birthday. His aunt and niece hold each other as a group of musicians plays his favorite songs. Tixtla, Guerrero. January 29, 2015.
The Search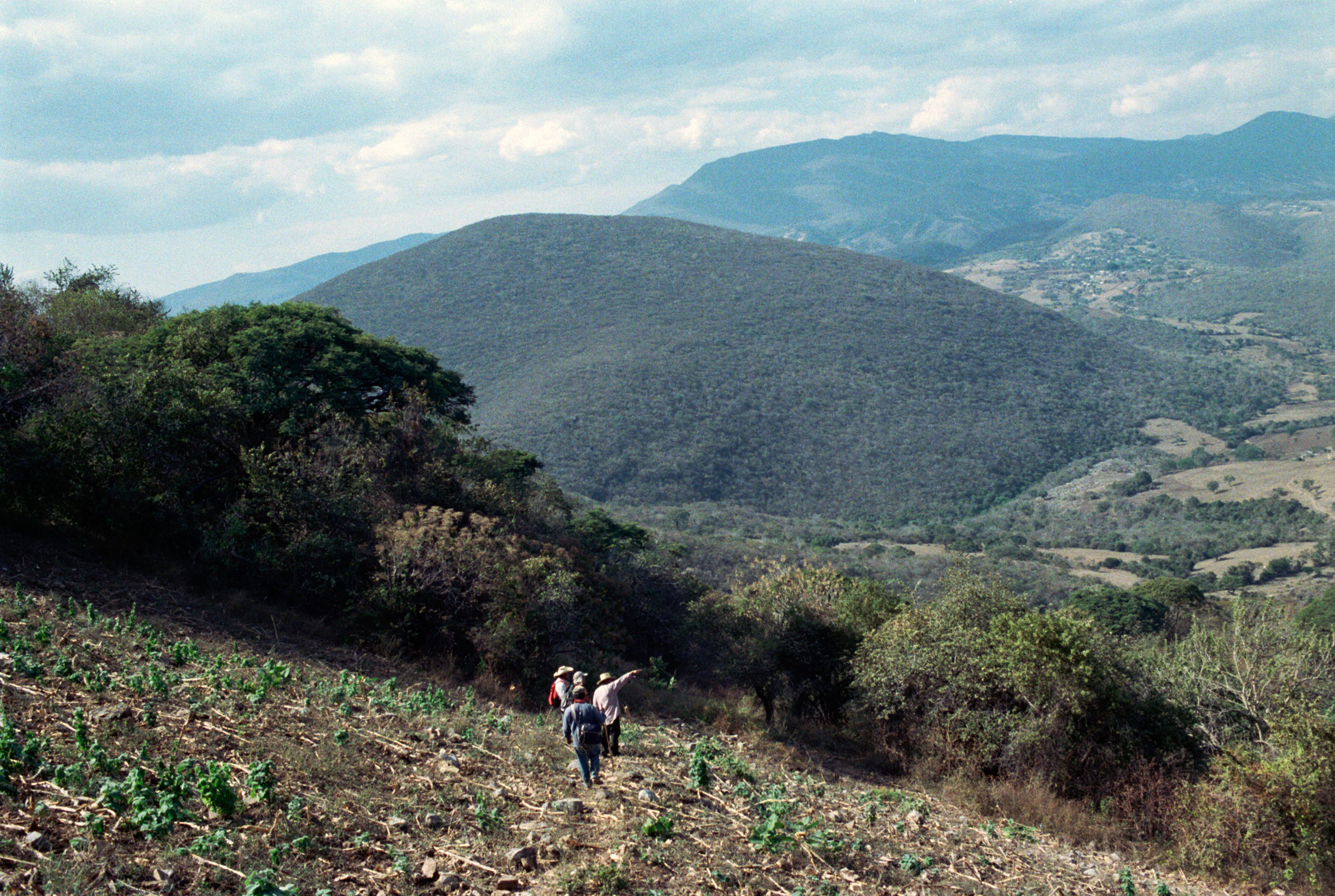 Citizen search organized by families of the missing students in the hills outside Iguala. January 16, 2015.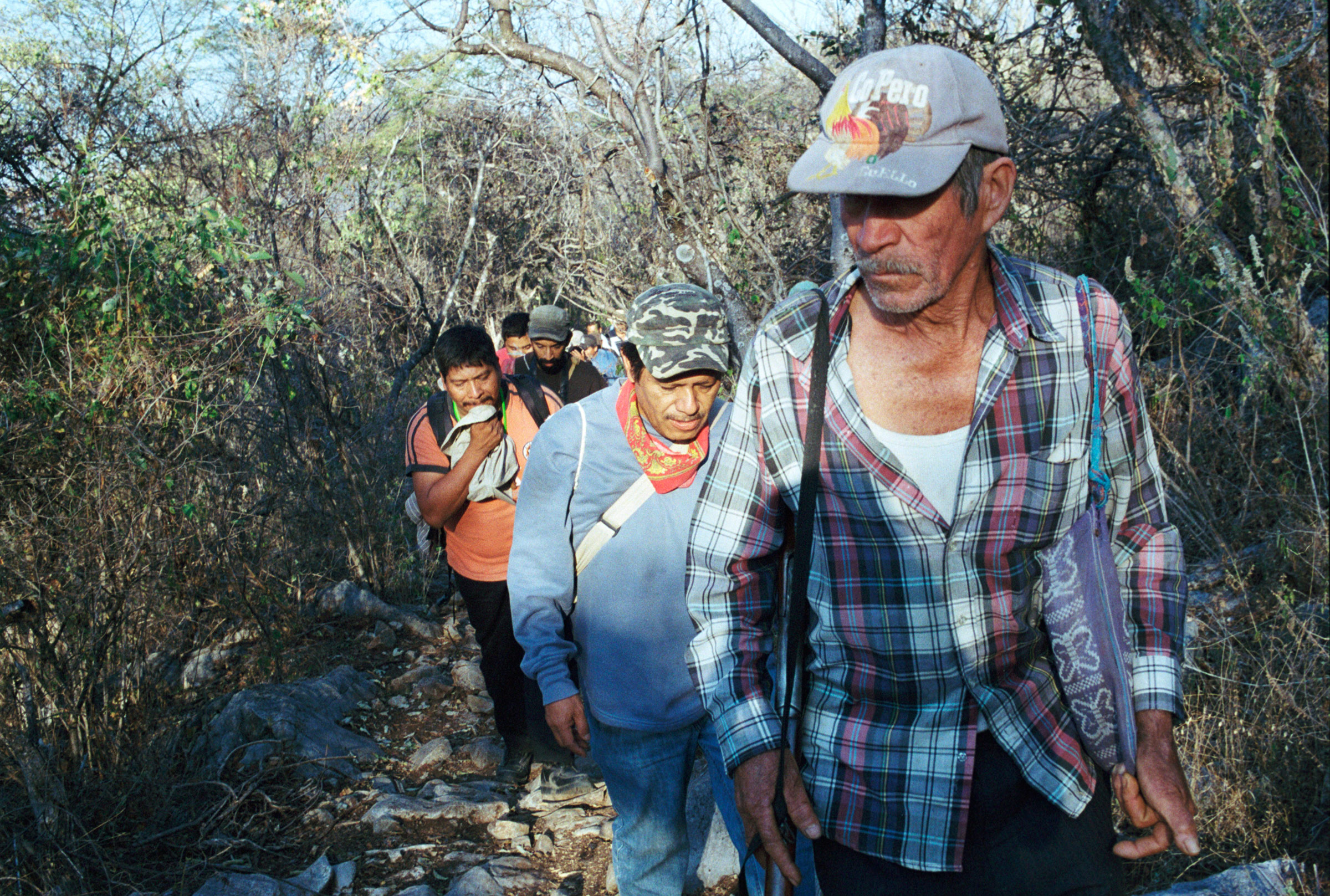 Citizen search organized by families of the missing students in the hills outside Iguala, the city where they disappeared. Huahuaxtla, Guerrero. January 15, 2016.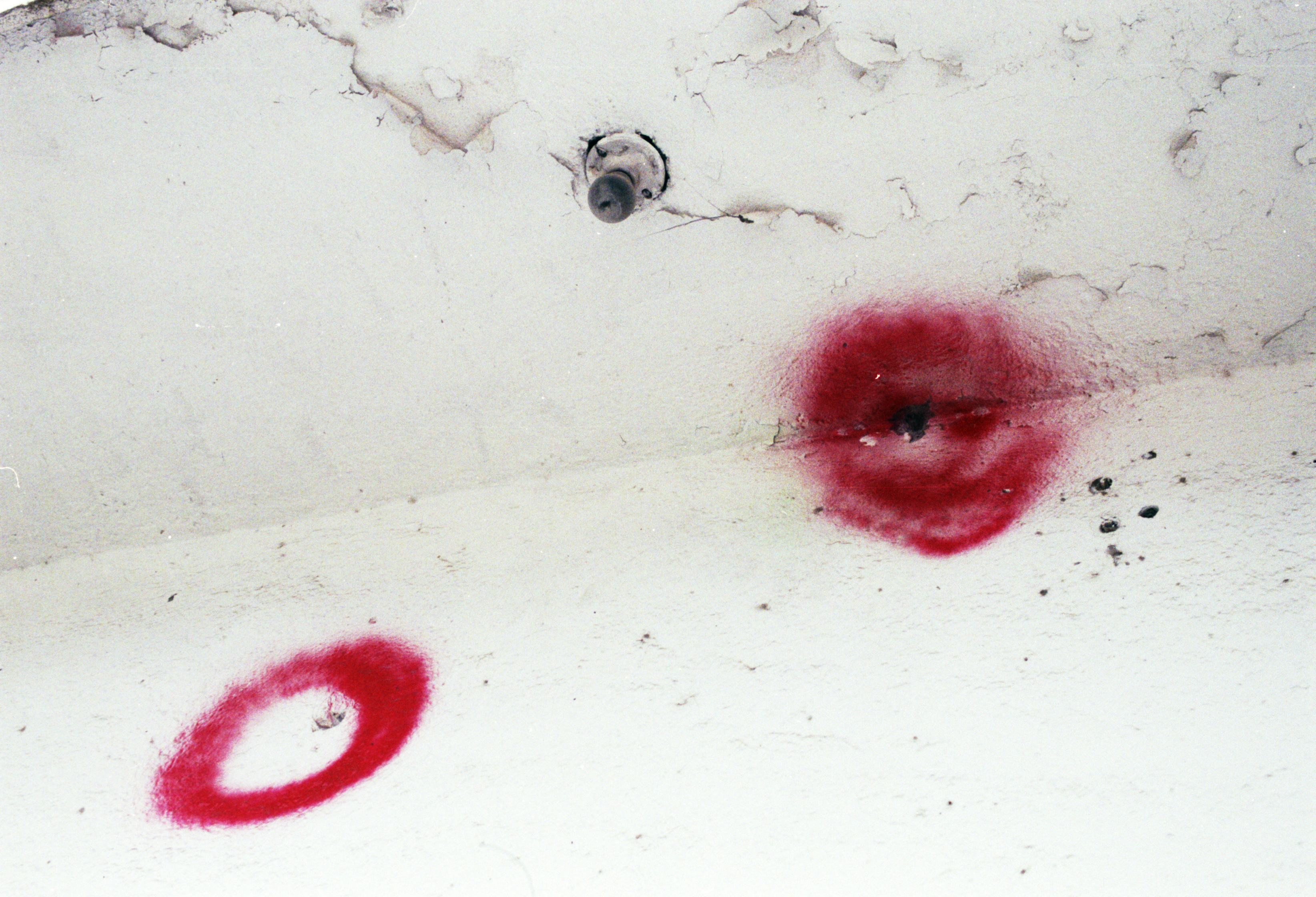 Bullet holes at the crime scene. February 13, 2015.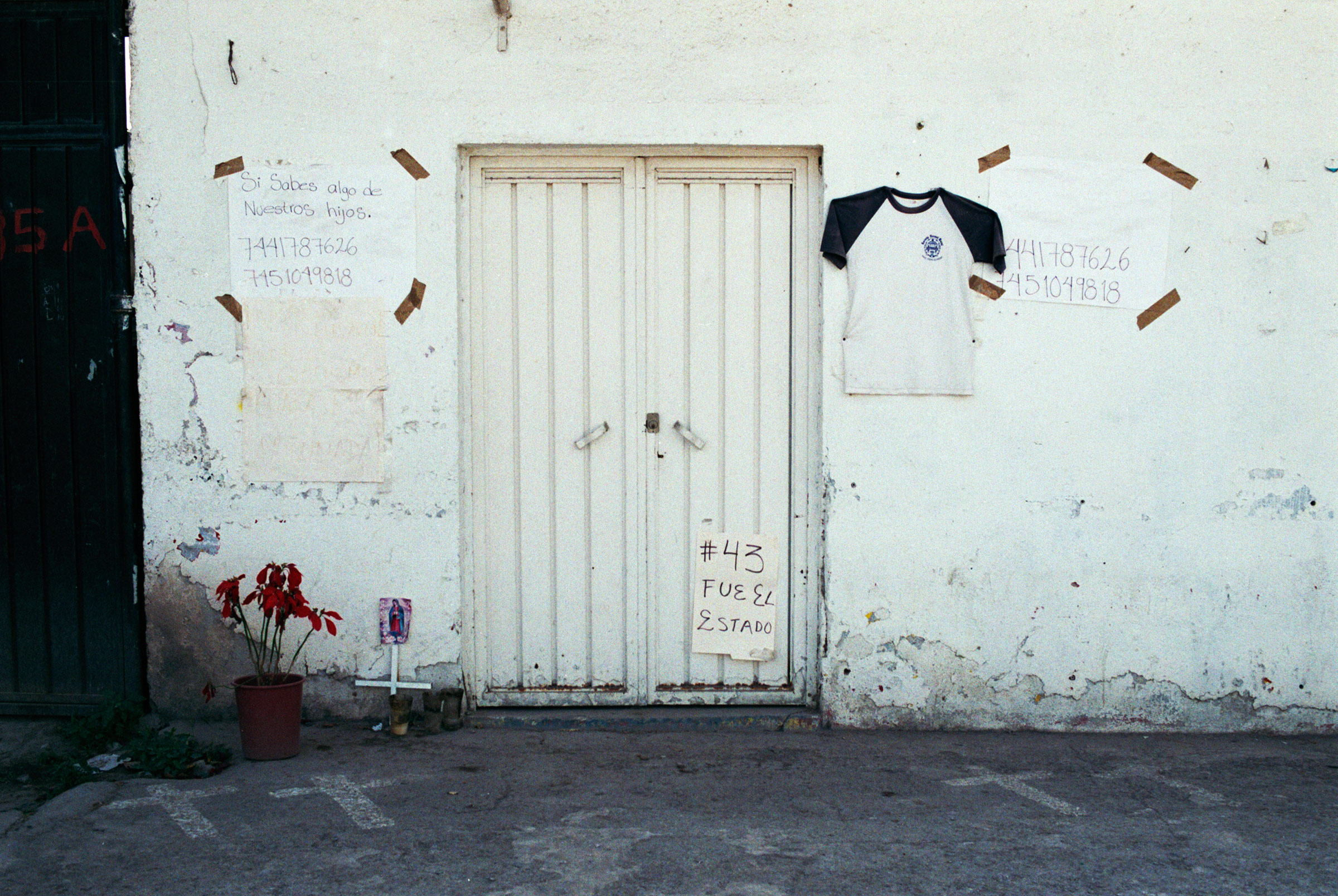 Site of the attacks at Juan N. Álvarez and Periférico Norte in the city of Iguala, Guerrero. Crosses on the ground mark where two Ayotzinapa students, Daniel Solís Gallardo and Julio César Ramírez Nava, were shot. Parents of the 43 missing students have posted phone numbers to call "if you know anything about our sons." February 13, 2015.
The Movement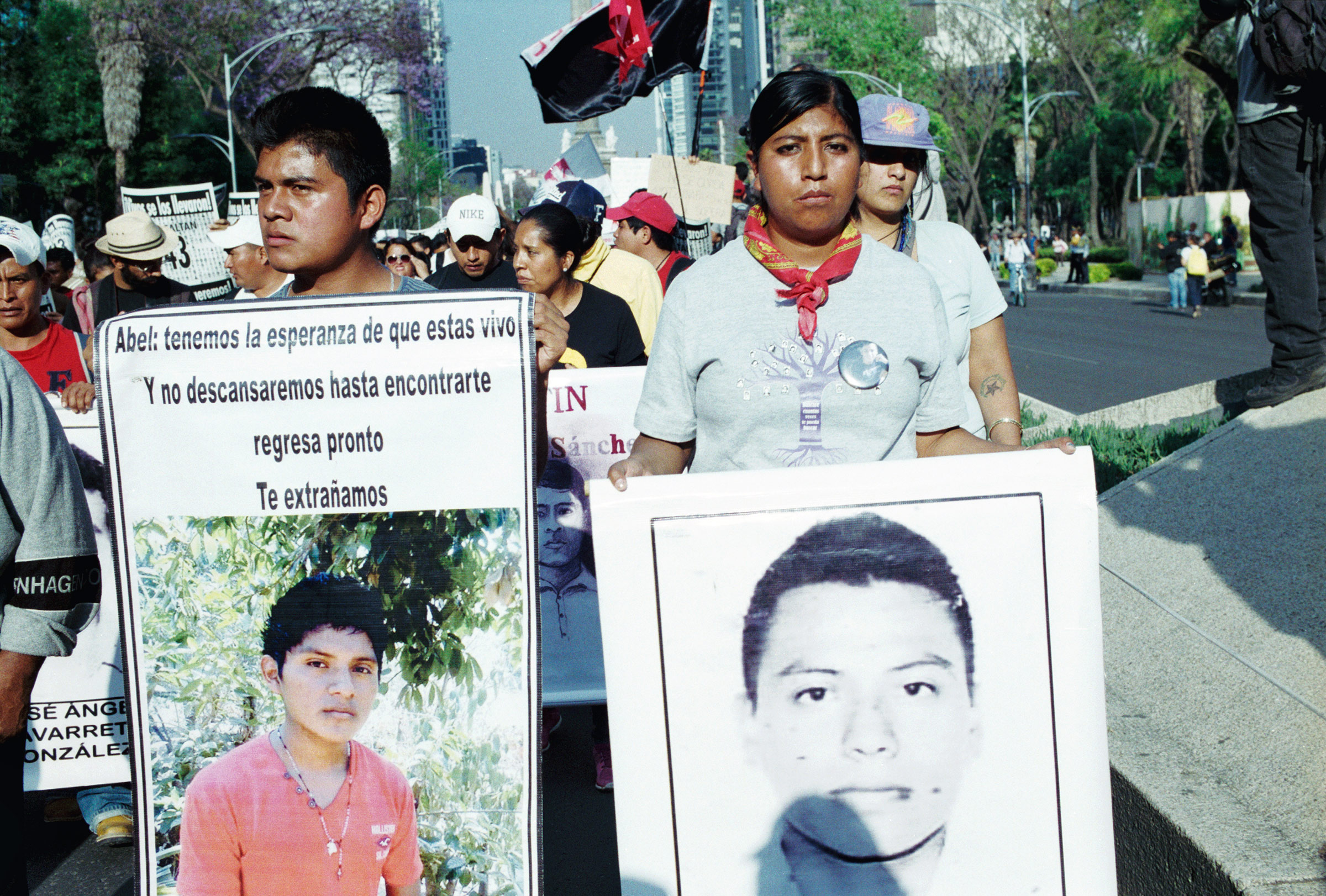 May 7, 2011.Óscar, brother of missing student Abel García Hernández, and Mayra, aunt of missing student Christian Alfonso Rodríguez Telumbre, march together in Mexico City on the five month anniversary of the disappearance. February 26, 2015.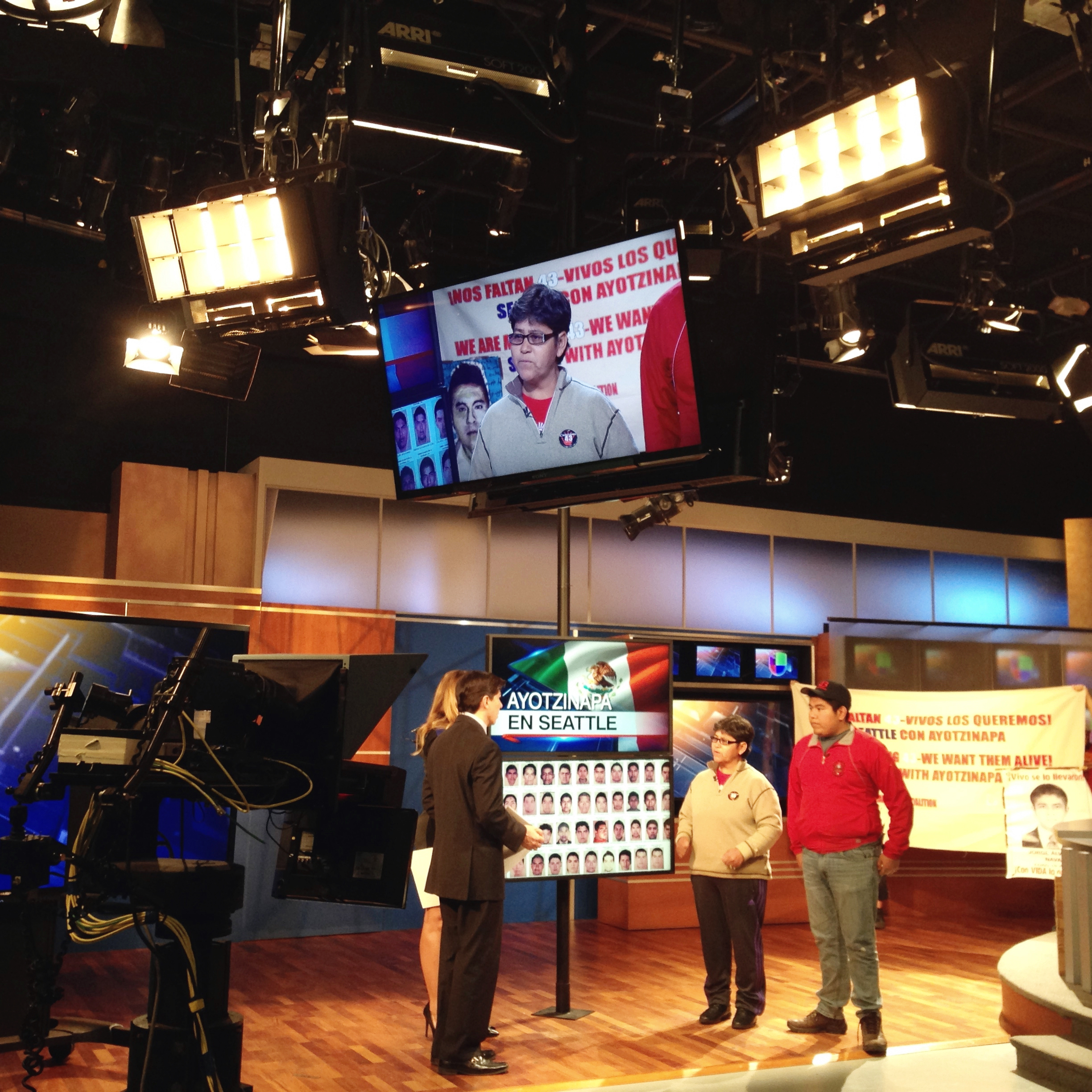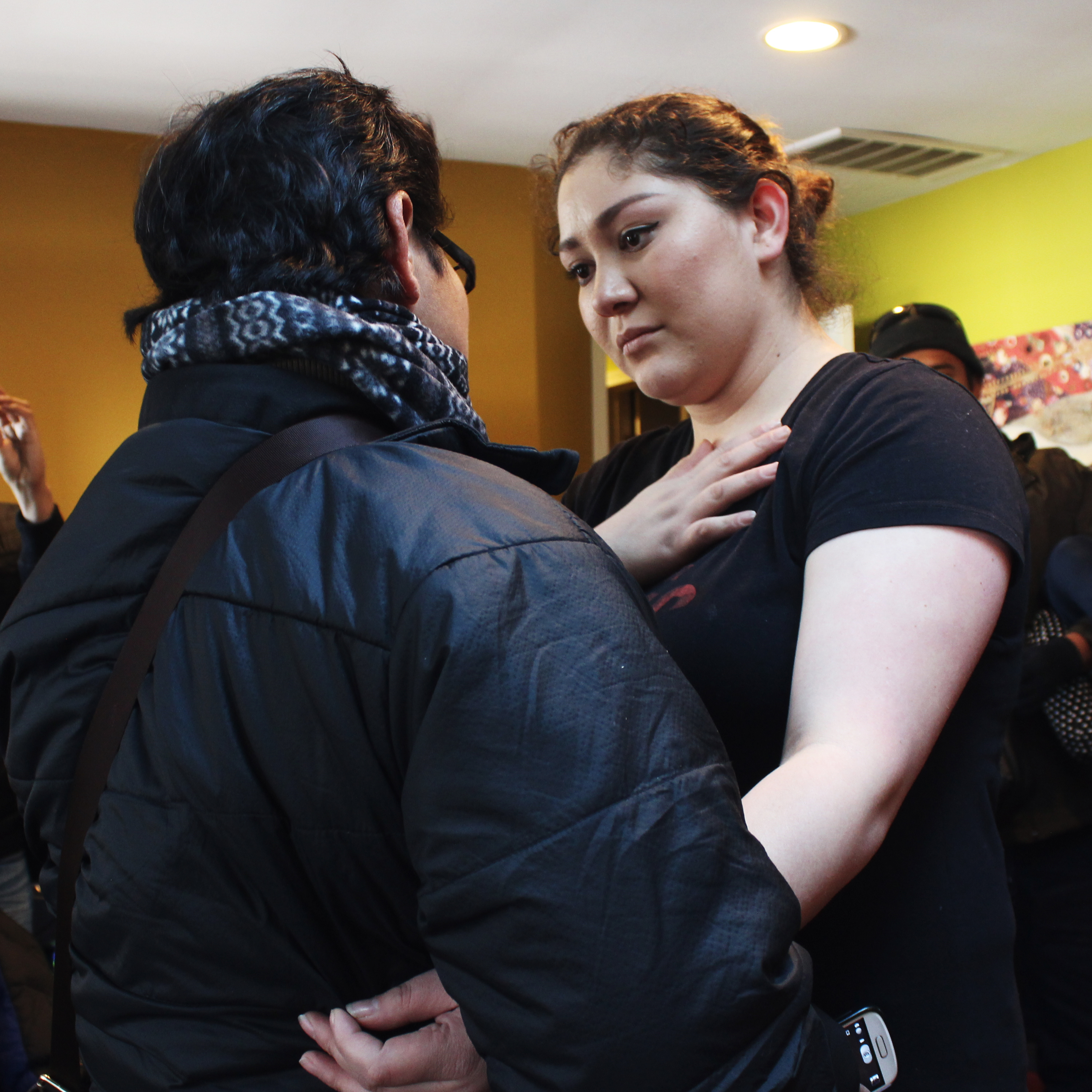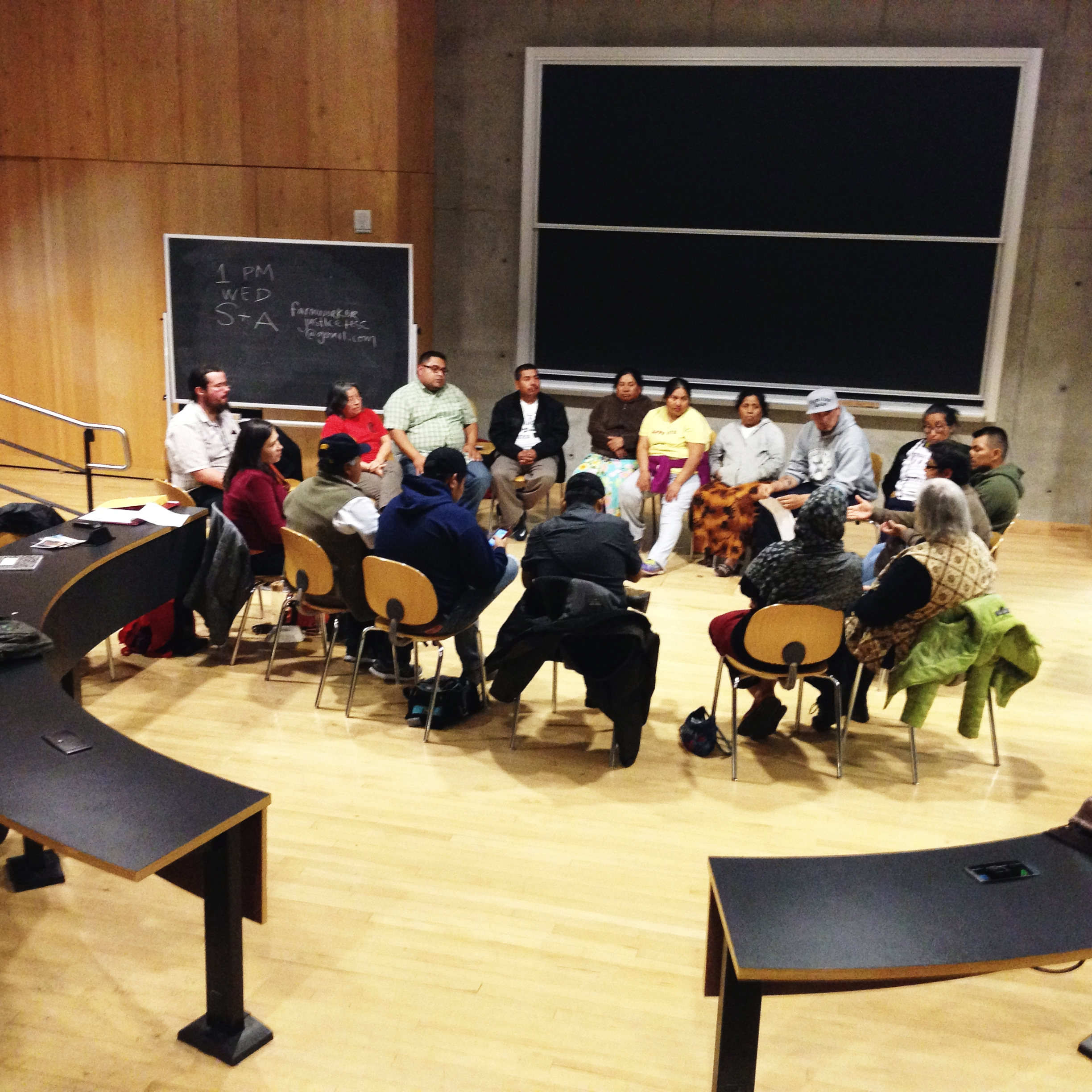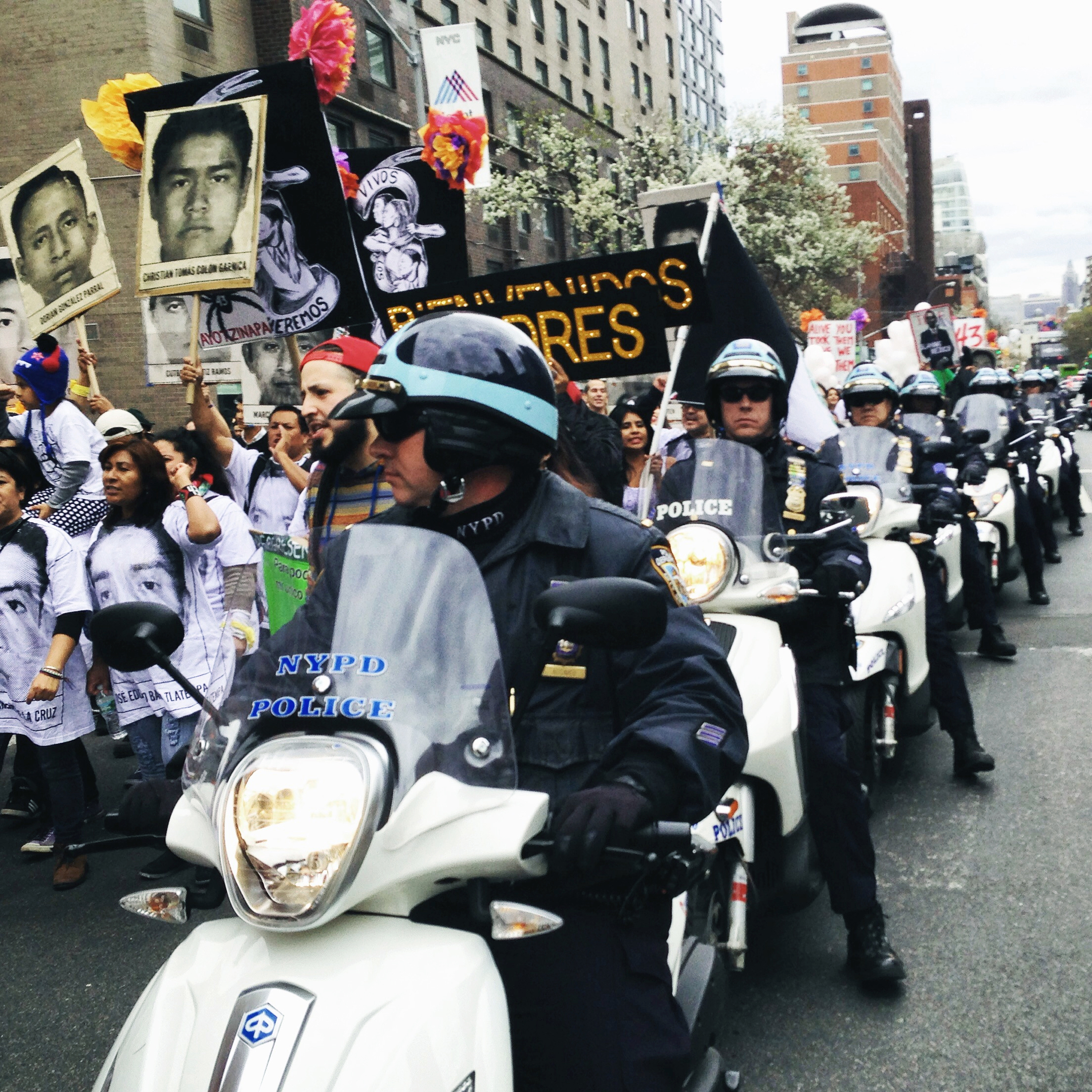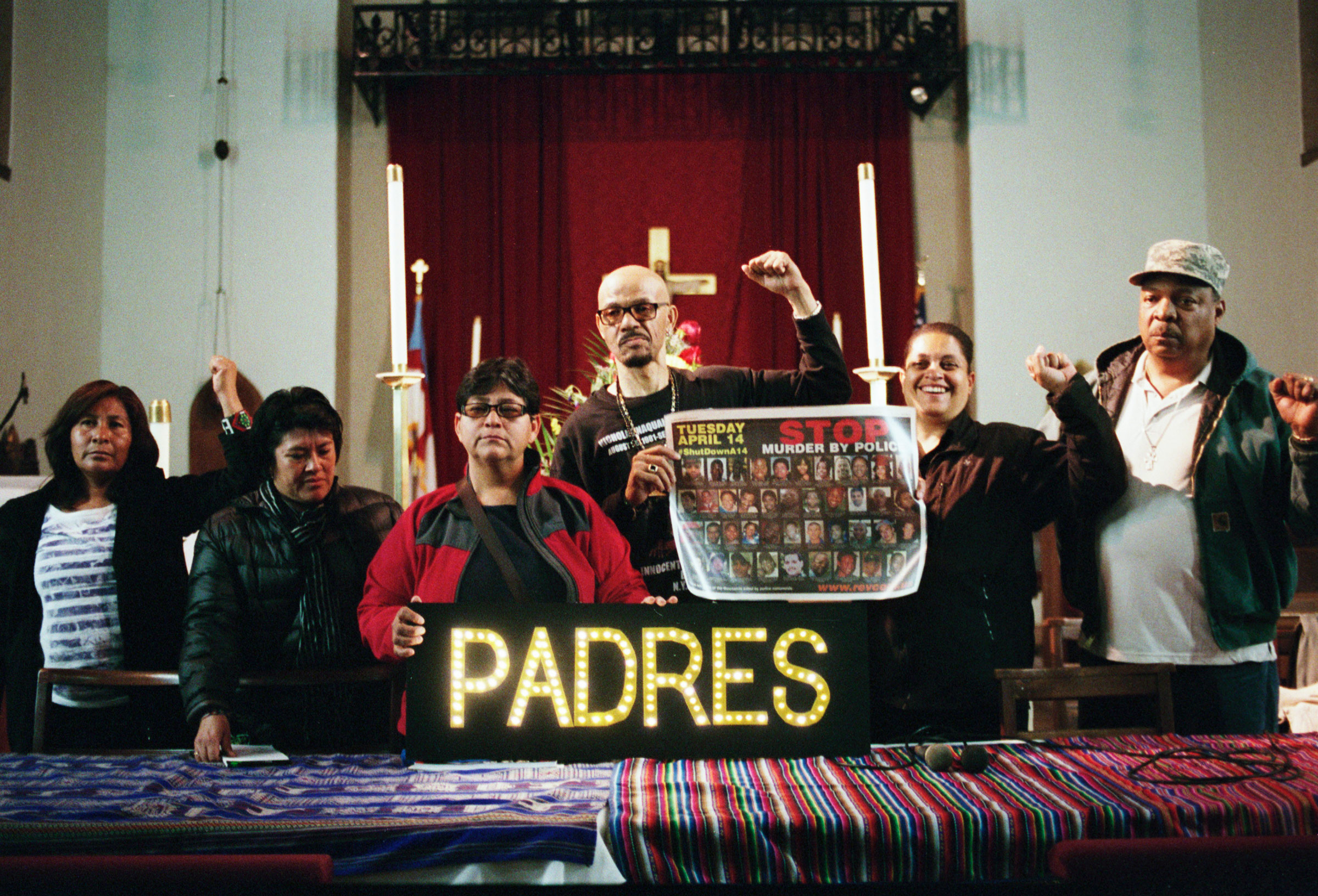 Community forum with members of the Ayotzinapa movement and Black Lives Matter movement at St. Mark's Church in Queens, NY. From left to right: María de Jesus Tlatempa, mother of Jesús Jovany Rodríguez Tlatempa; Anayeli Guerrero, sister of Jhosivani Guerrero de La Cruz; Blanca Luz Nava Vélez, mother of Jorge Álvarez Nava; Nicholas Heyward, father of Nicholas Naquan Heyward, Jr.; Cynthia Howell, niece of Alberta Spruill; and Emboya Wordsworth, father of Agabus Wordsworth. April 25, 2015.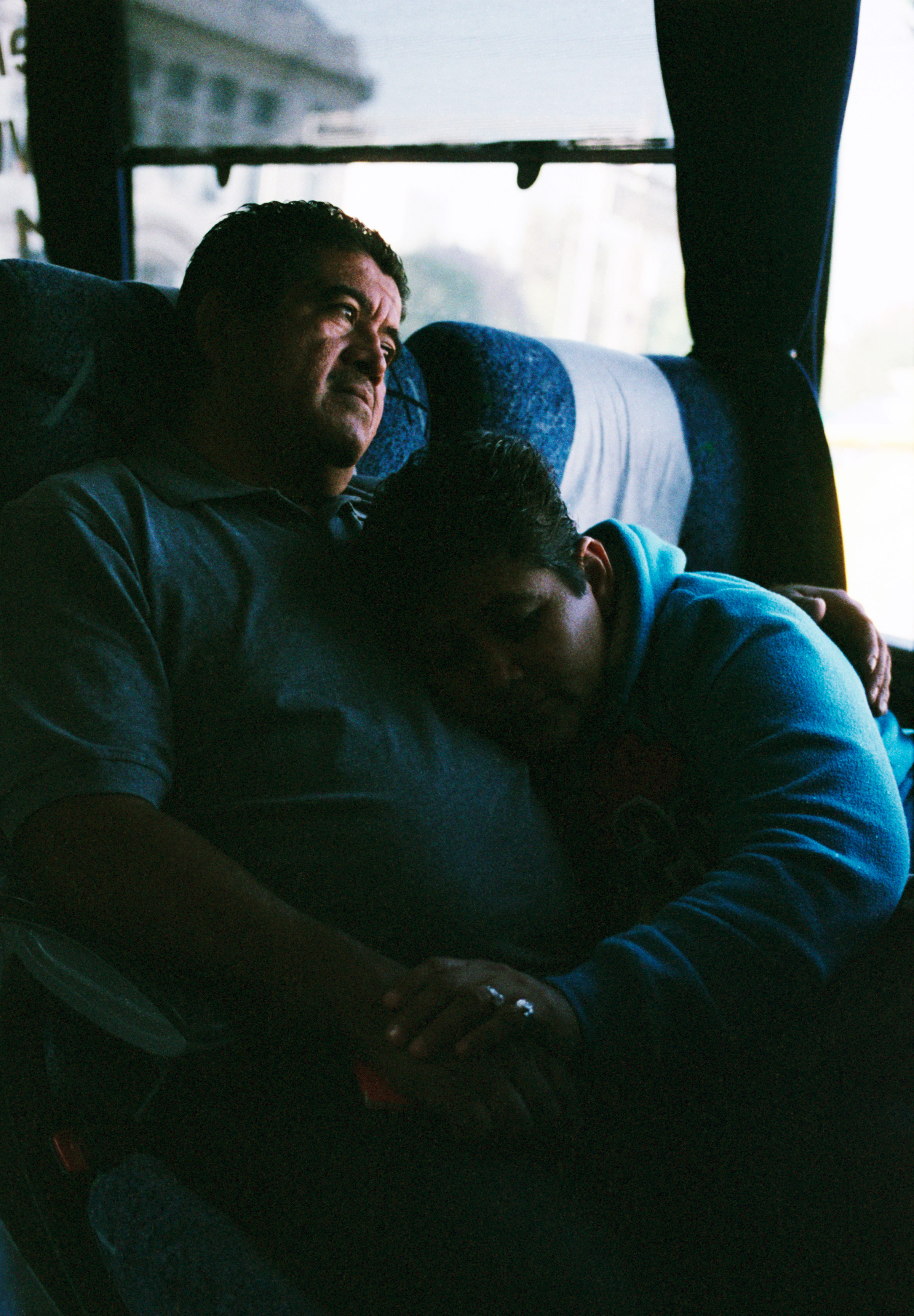 Blanca Luz Nava Vélez and her husband Epifanio Álvarez Carbajal rested on a bus during a week of marching and organizing in Mexico City. Three days later, the Mexican Attorney General controversially closed the official investigation of the Ayotzinapa case. January 24, 2015.
The Ayotzinapa School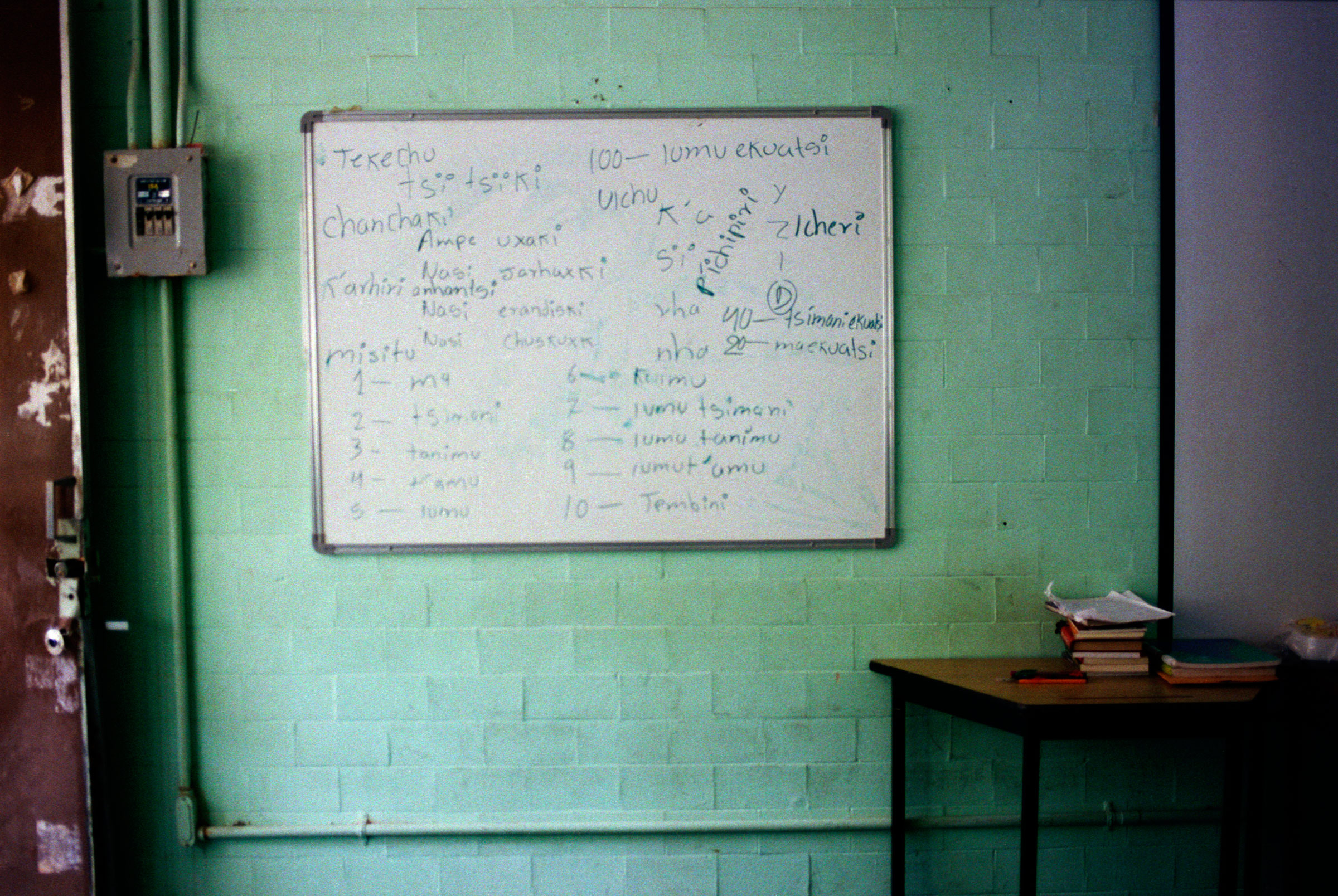 Words written in Purépecha in an Ayotzinapa classroom. Ayotzinapa students receive full scholarships from the Mexican government and come mainly from low-income farming families. Many of them speak Mixteco, Nahuatl, Tlapaneco, or Amuzgo, and go on to teach in rural communities after they graduate.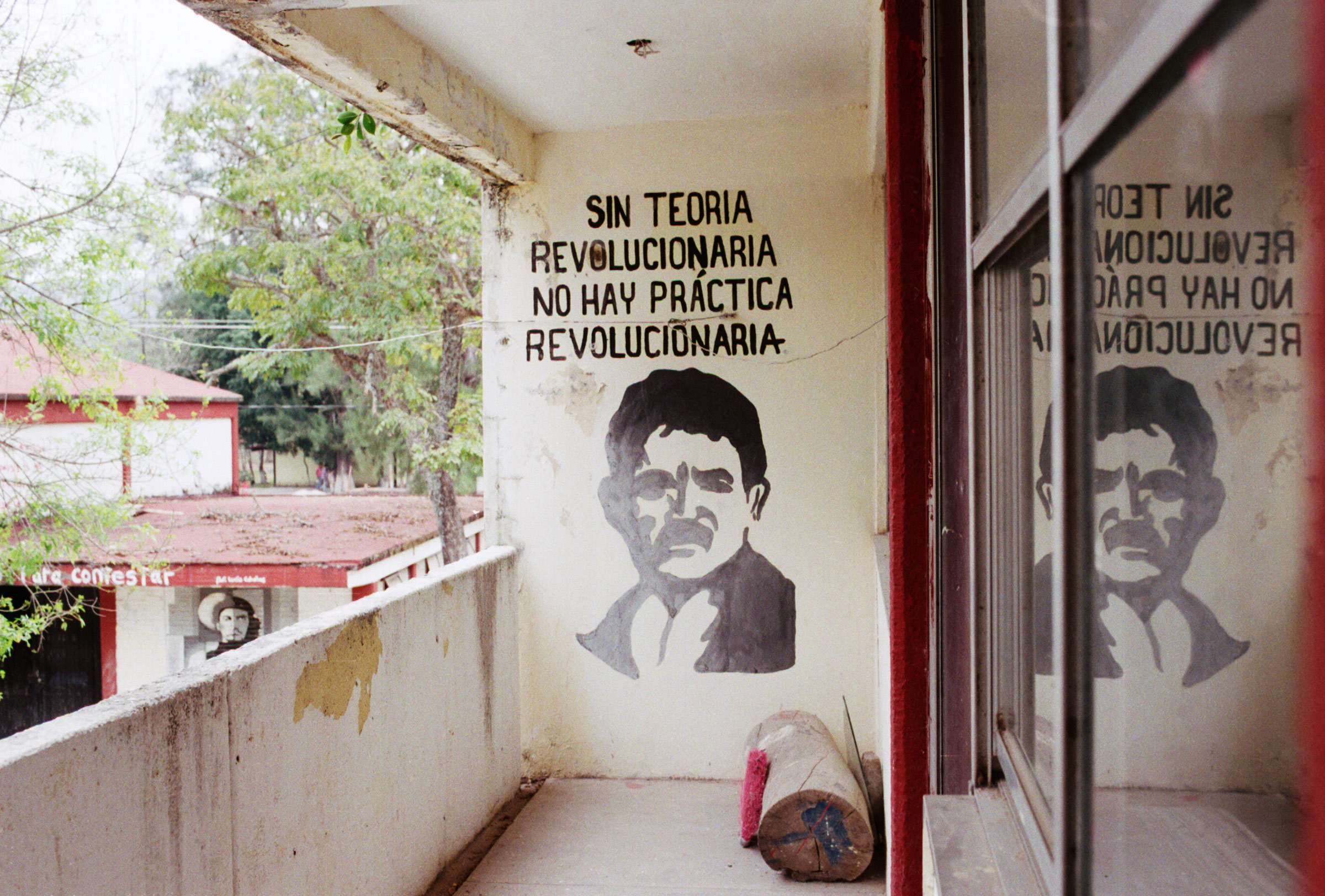 A leninist principle, " There is no revolutionary practice without revolutionary theory," painted in an Ayotzinapa hallway. Below it is an image of Genaro Vázquez Rojas, a 60s-era guerrilla leader who studied at Ayotzinapa. Ayotzinapa students belong to the Federation of Socialist Peasant Students of Mexico, the country's oldest student organization, and spend as much time studying as participating in social movements at the local and national levels.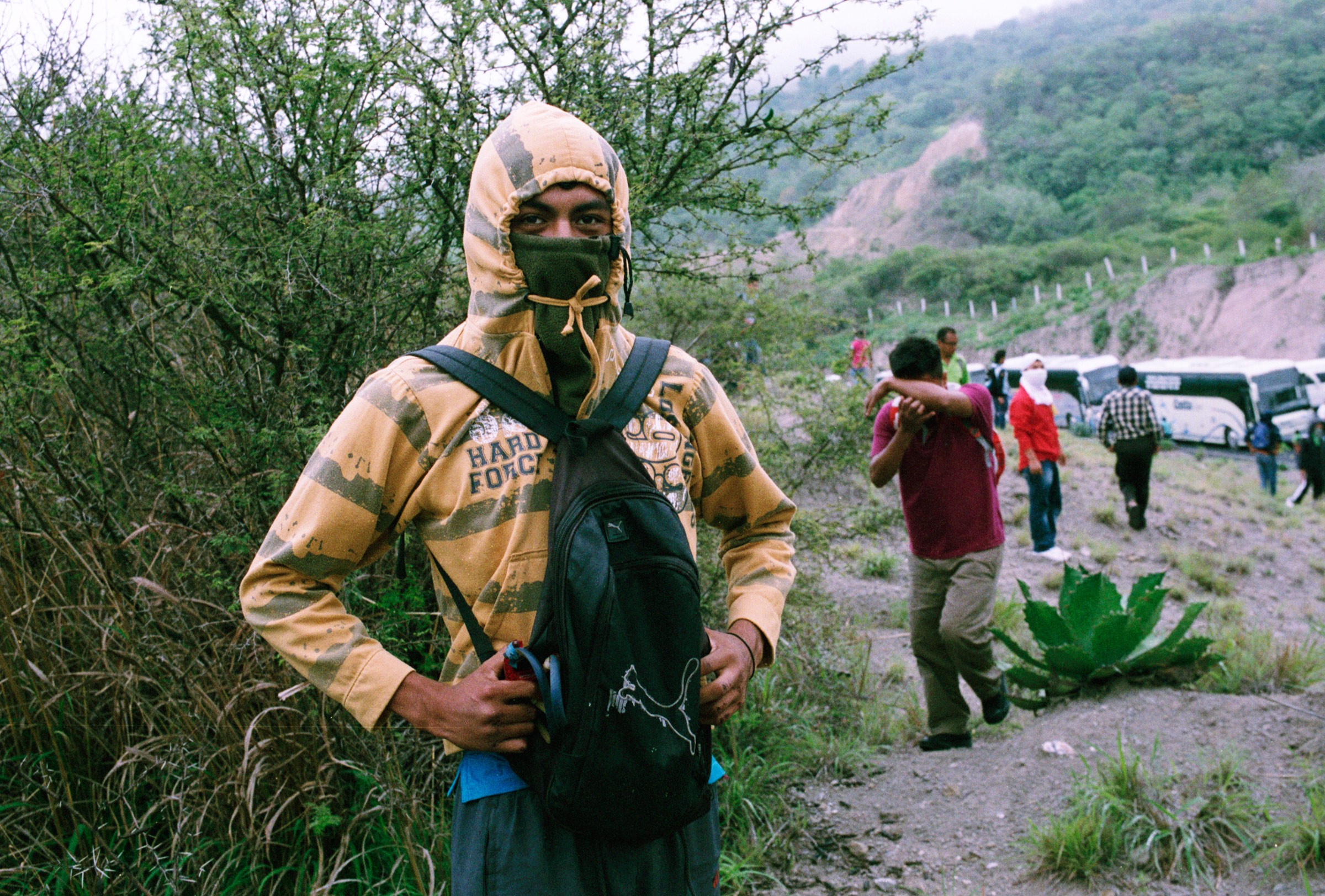 An Ayotzinapa student faces off with police who stopped his classmates and relatives of the 43 missing students from attending a radical protest of Guerrero's elections. June 3, 2015.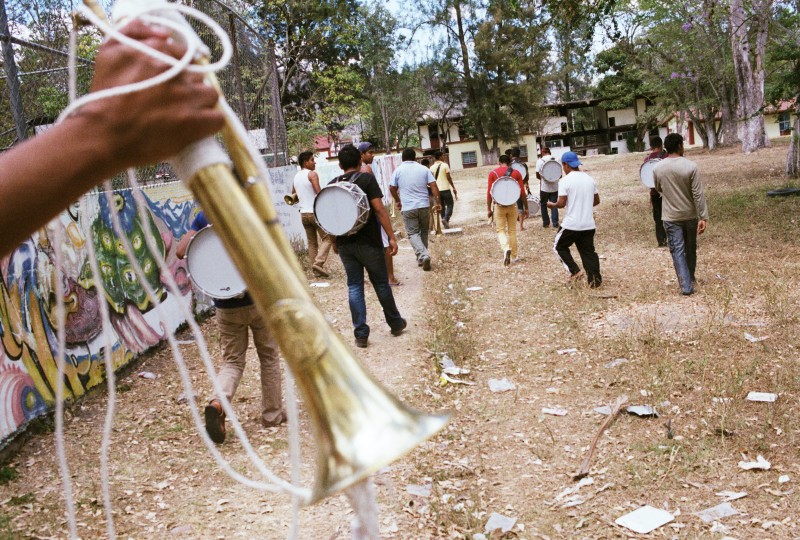 Ayotzinapa marching band practice.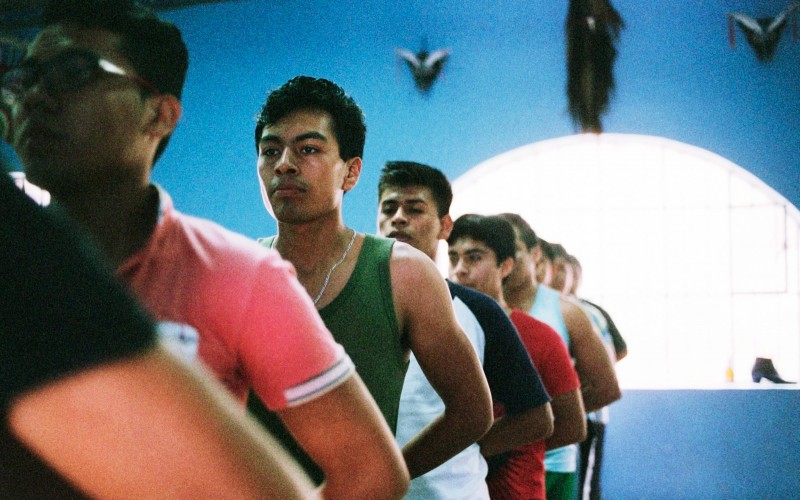 The Ayotzinapa dance club rehearses a traditional dance. The school is also home to a marching band and a rondalla — a group of serenaders that play romantic ballads. The education at Ayotzinapa revolves around five central axes: academics, political formation, cultural traditions, agriculture and livestock, and physical education. Ayotzinapa was founded in 1926, in the wake of the Mexican Revolution, as part of a national system of rural teacher training schools that aimed to socialize education in Mexico.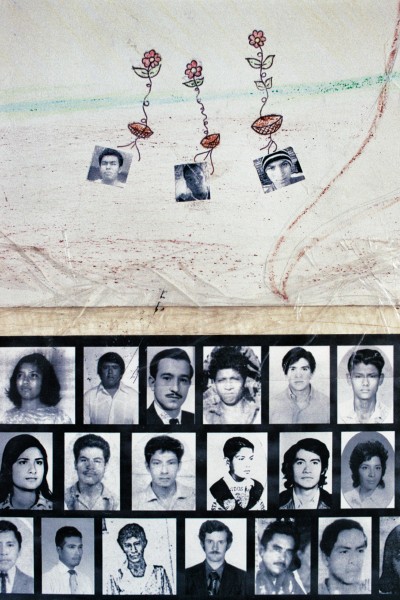 Drawings of Julio César Ramírez Nava, Daniel Solís Gallardo, and Julio César Mondragón Fuentes (the three Ayotzinapa students murdered during the Iguala attacks) in the form of seeds at the Ayotzinapa School. Below them, a poster from the organization H.I.J.O.S. Mexico shows images of Mexicans who disappeared during the "dirty war," a period of intense political repression, enforced disappearances, and extrajudicial executions on the part of the Mexican state between the 1960s and 1980s. ​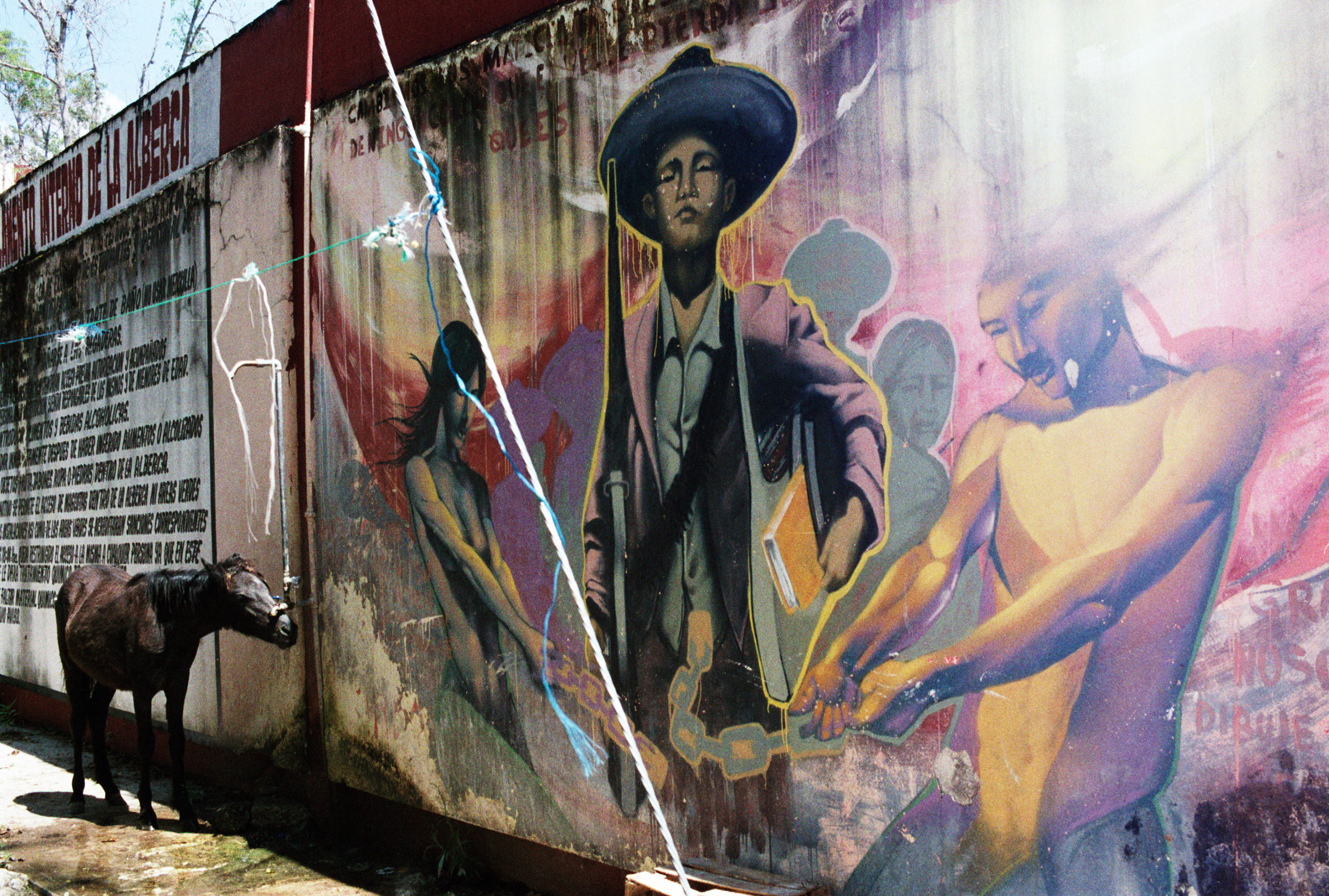 Mural of a young Lucio Cabañas on the Ayotzinapa campus. Cabañas was a student leader at the Ayotzinapa School during the 1960s and later formed a guerrilla group called the Party of the Poor. According to historian Alexander Aviña, he was "part of a broader post-1940 generation of teachers and students who protested the PRI government's authoritarian bent and its inequitable model of capitalist development." He died in a shootout with the army in 1974.
The Elections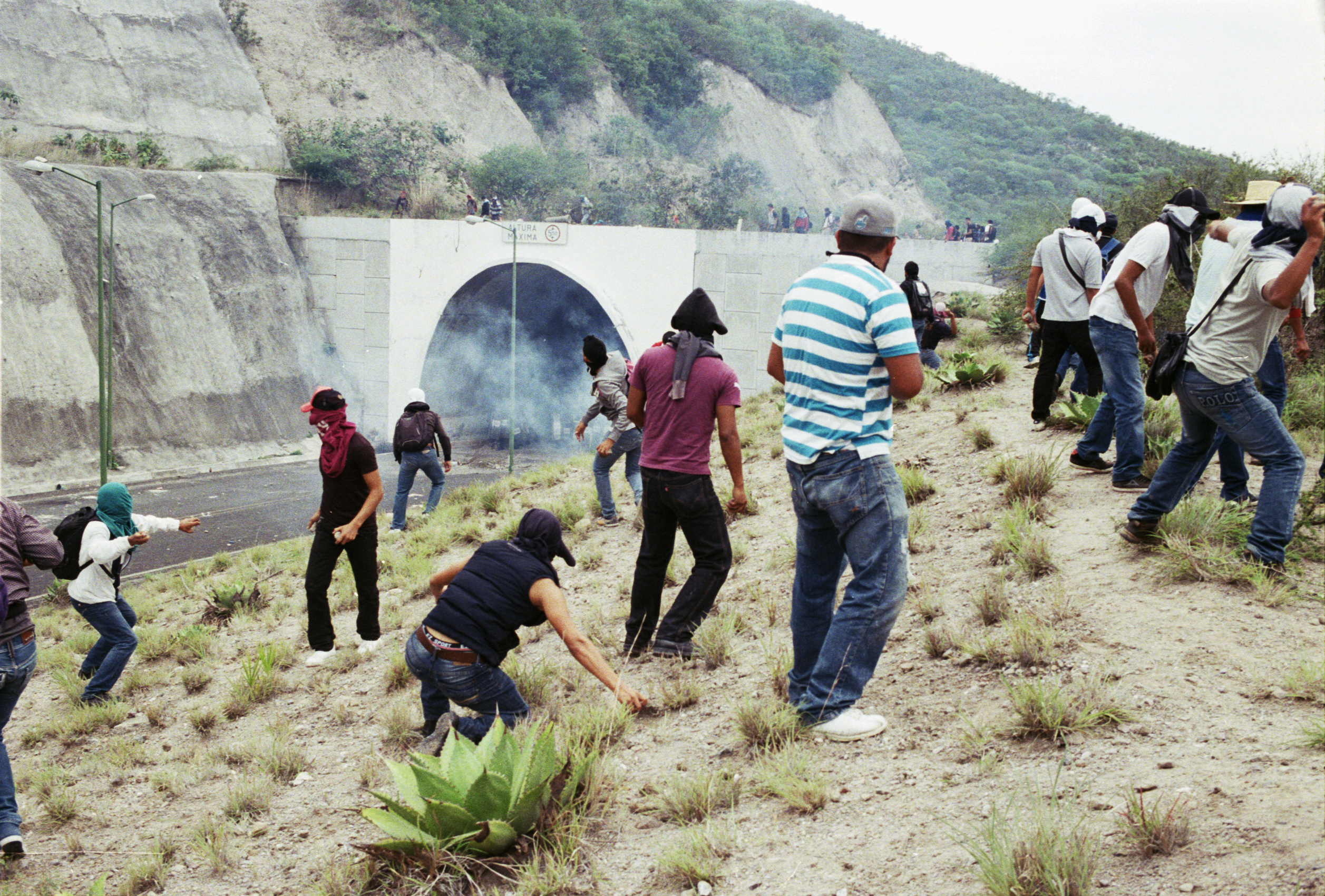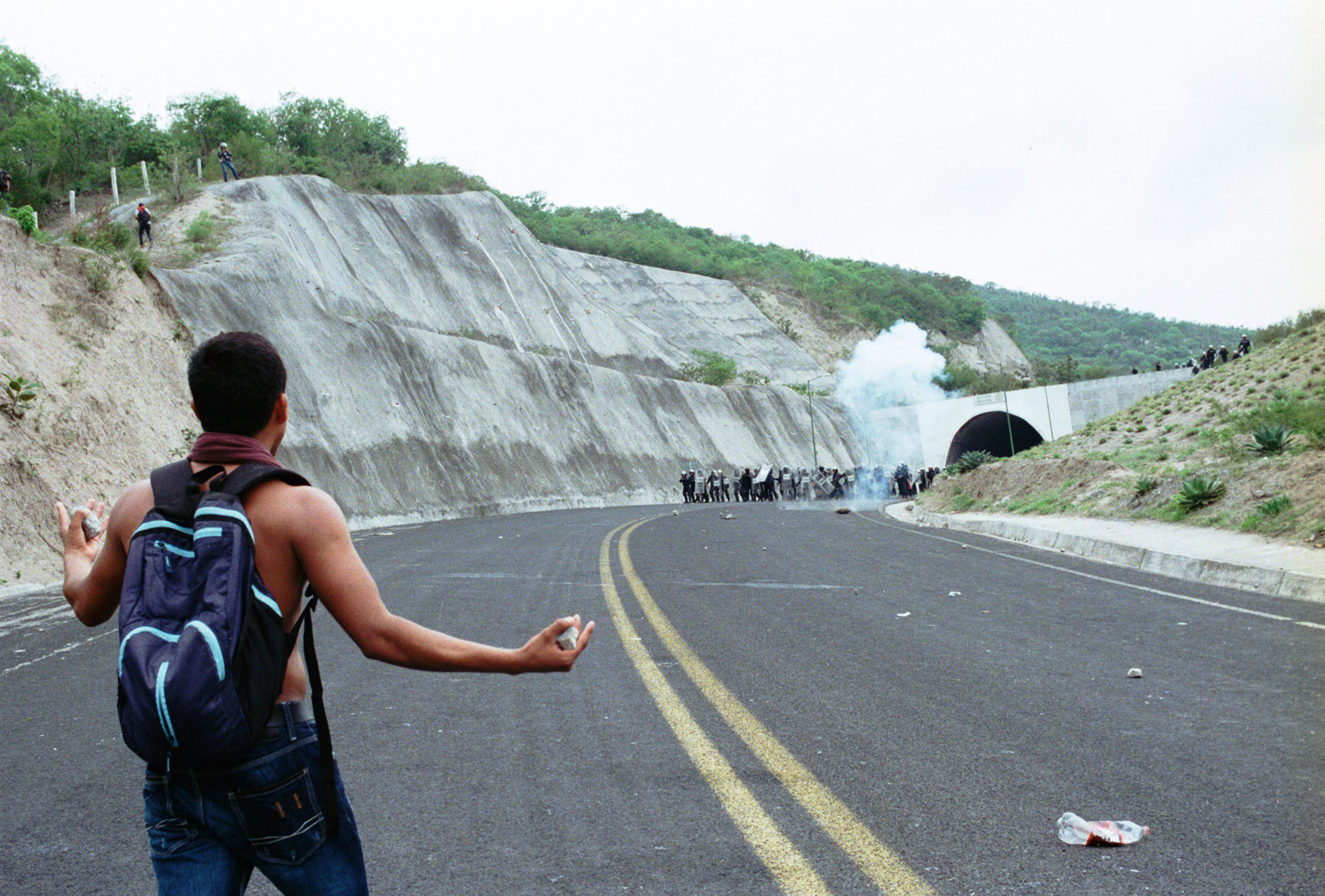 Confrontation with riot police after a failed negotiation. The police had blocked the road to stop Ayotzinapa students and families, who were calling for an electoral boycott, from attending a radical protest in Chilpancingo. Tixtla, Guerrero. June 3, 2015.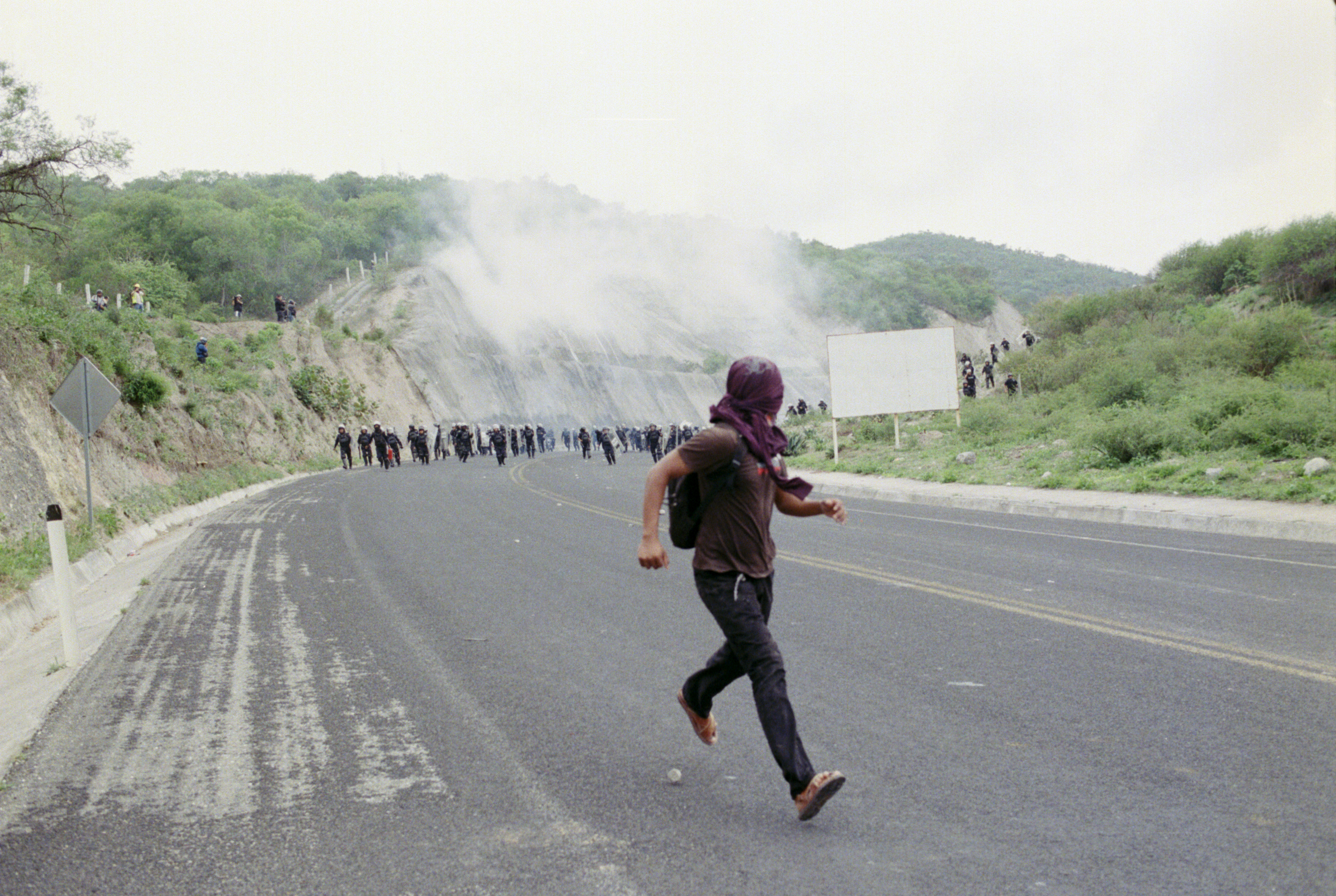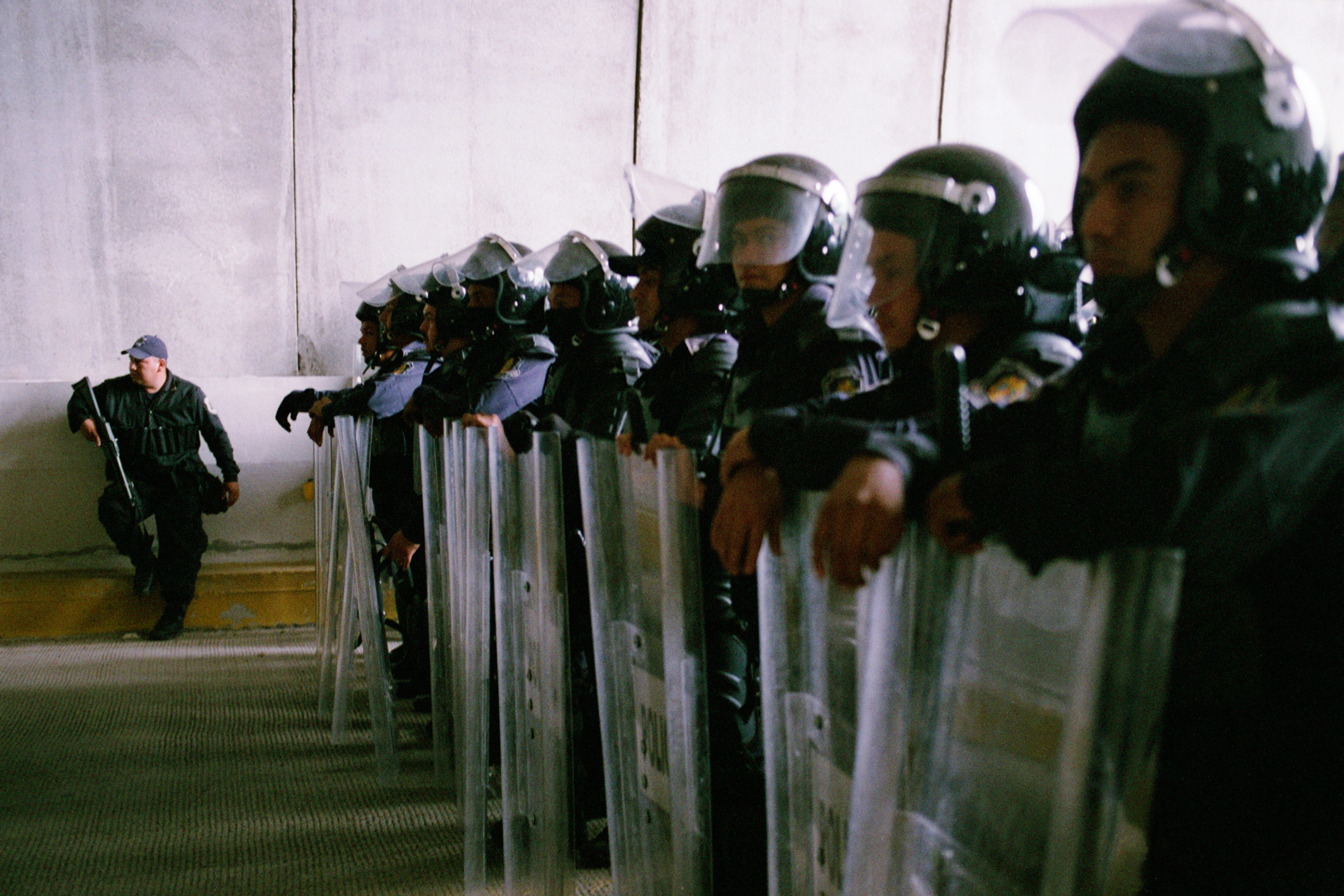 Riot police block the road out of Tixtla. June 3, 2015.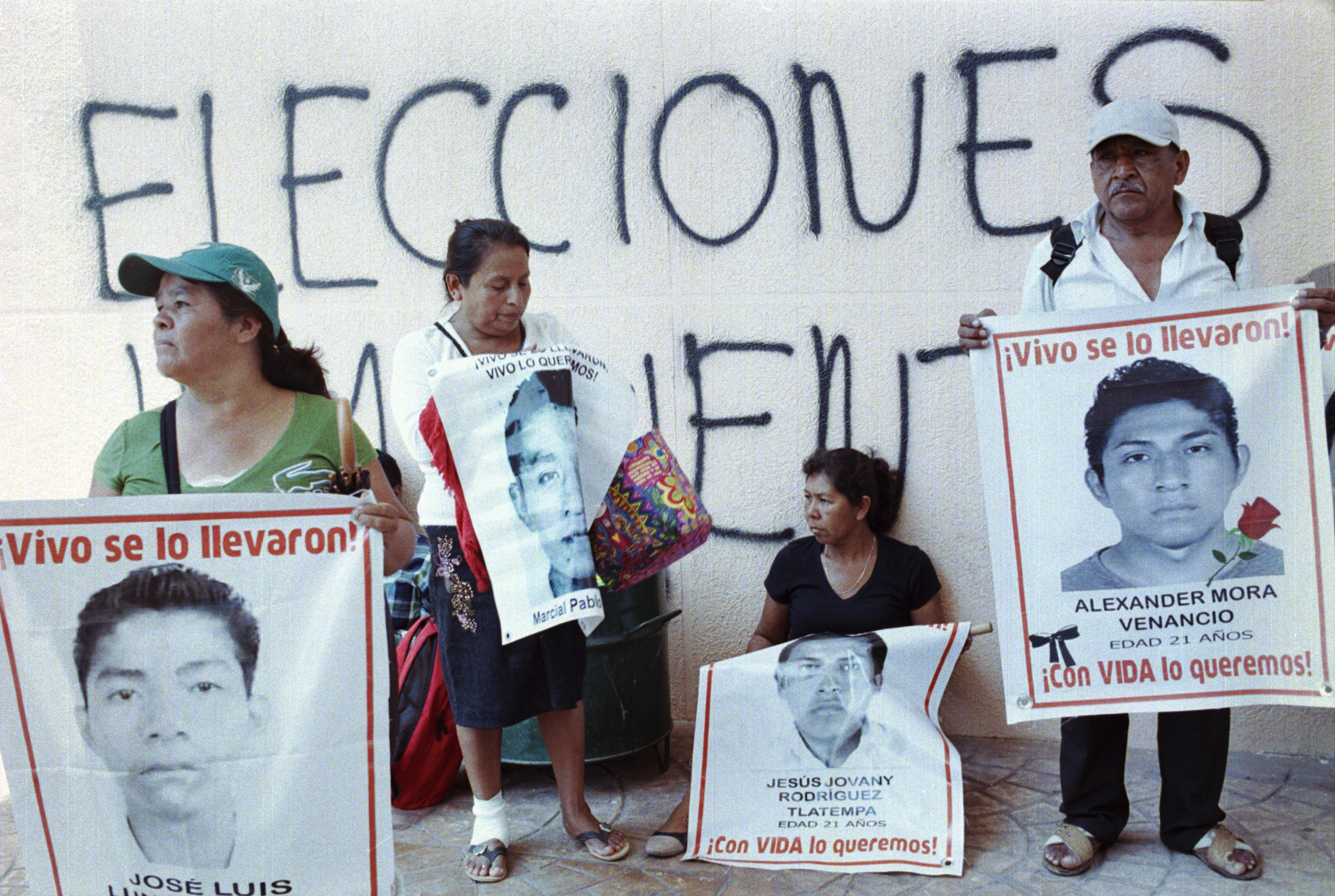 ​Mothers and fathers of the 43 missing students protest outside the Government Palace in Chilpancingo after the polls, calling them "bloody elections" and denouncing the death of activist Antonio Vivar Díaz. June 11, 2015.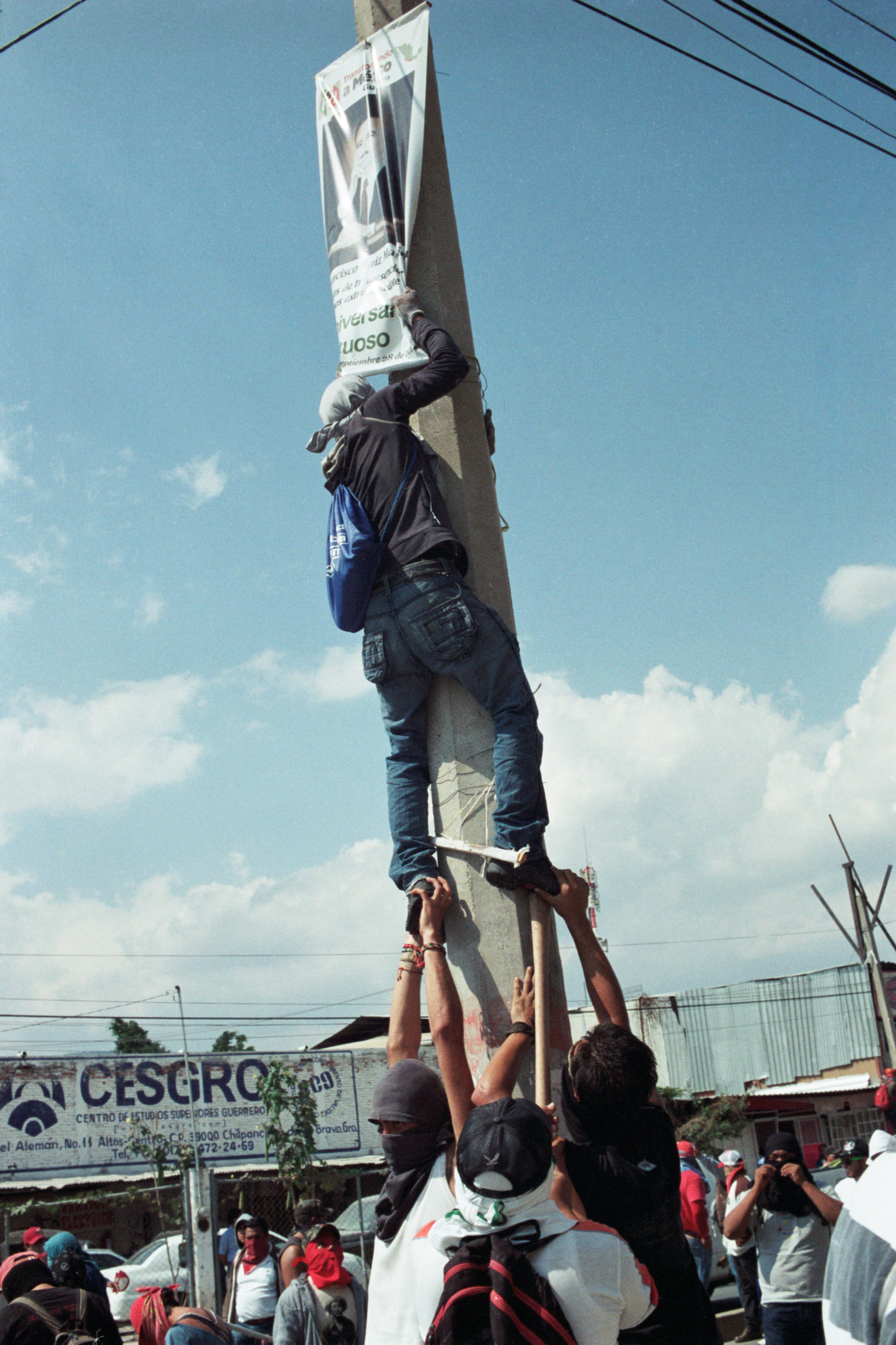 Teachers and Ayotzinapa supporters tore down political ads in the city of Chilpancingo. January 21, 2015.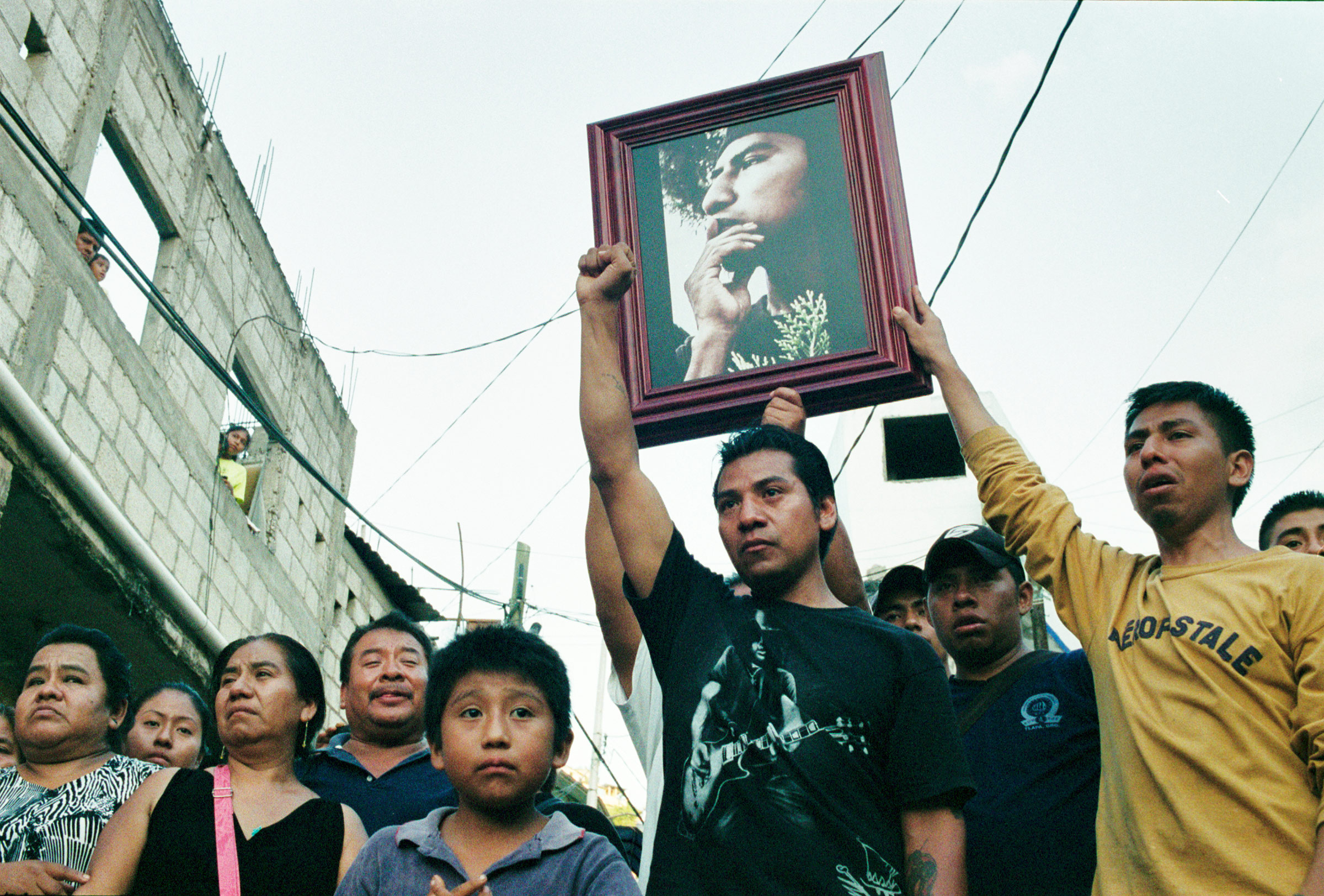 "He fought for you," the family of Antonio Vivar Díaz, a young man who was killed on Election Day in Tlapa, Guerrero, greeted a commission from Ayotzinapa at his wake. Antonio had studied at the National Pedagogic University in Mexico City to become a teacher and was an active member of the Guerrero Popular Movement. He played an important role in local demands for justice for the Ayotzinapa case. June 8, 2015.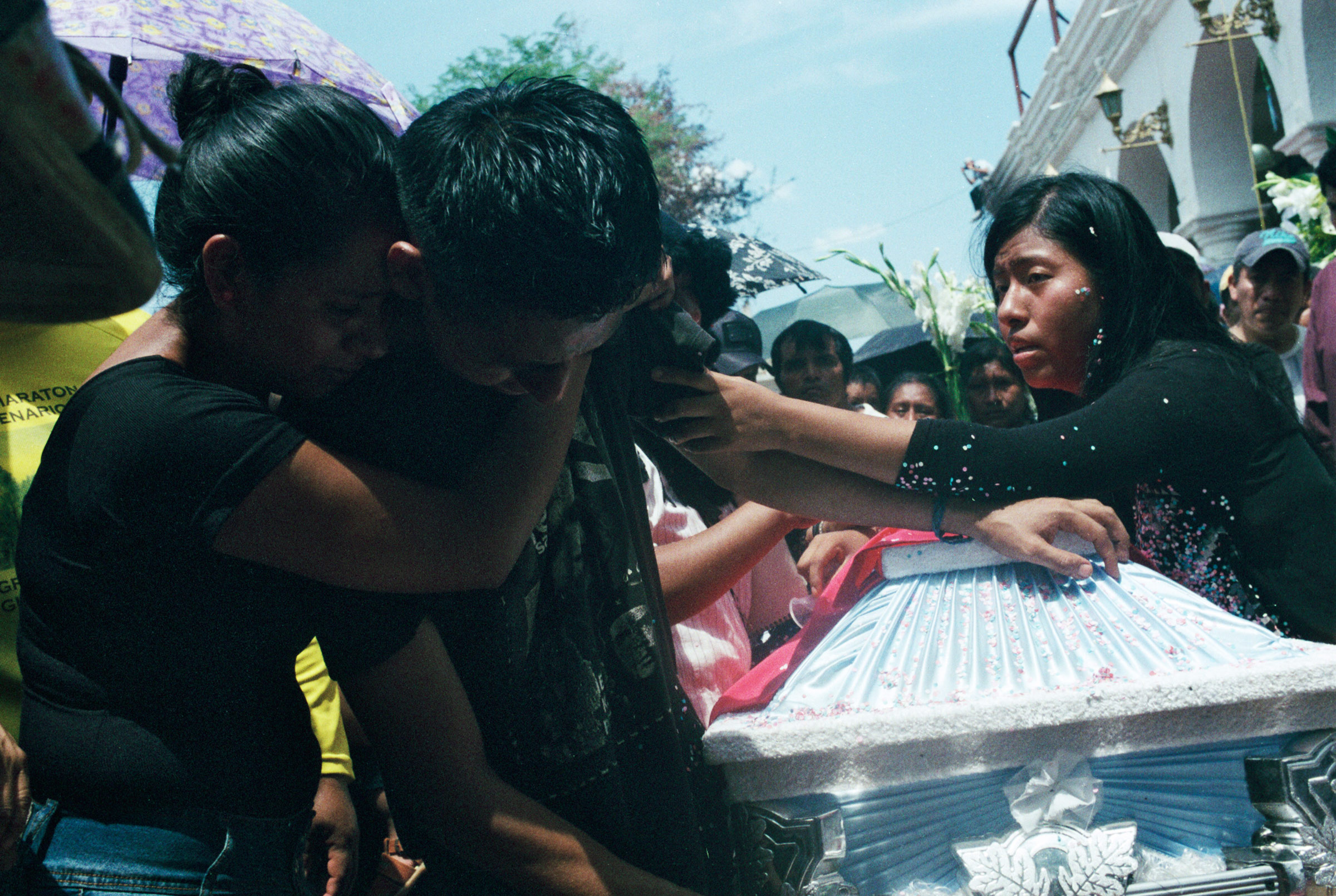 Relatives of Antonio Vivar Díaz hold his coffin in the main square of Tlapa. More than 3,000 people joined his funeral procession, chanting "Antonio didn't die, the government killed him." June 9, 2015.
A Waiting Town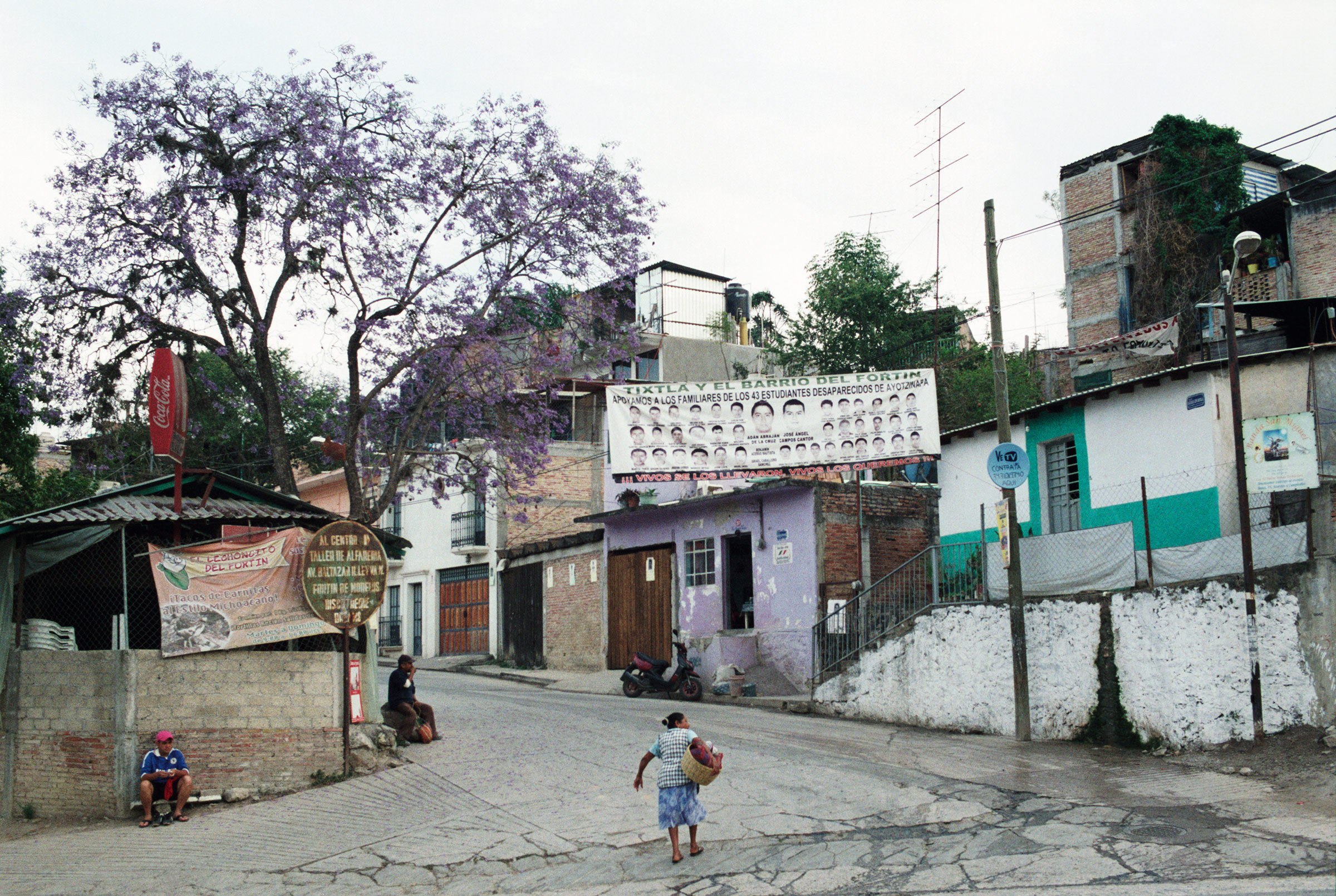 A banner with the faces of the 43 missing students hangs at the entrance to the Fortín neighborhood. It reads, "Tixtla and El Fortín support the families of the 43 disappeared Ayotzinapa students. ey took them alive, we want them alive!" e two largest faces show Adan Abrajan de La Cruz and Jose Ángel Campos Cantor, who both grew up in the neighborhood.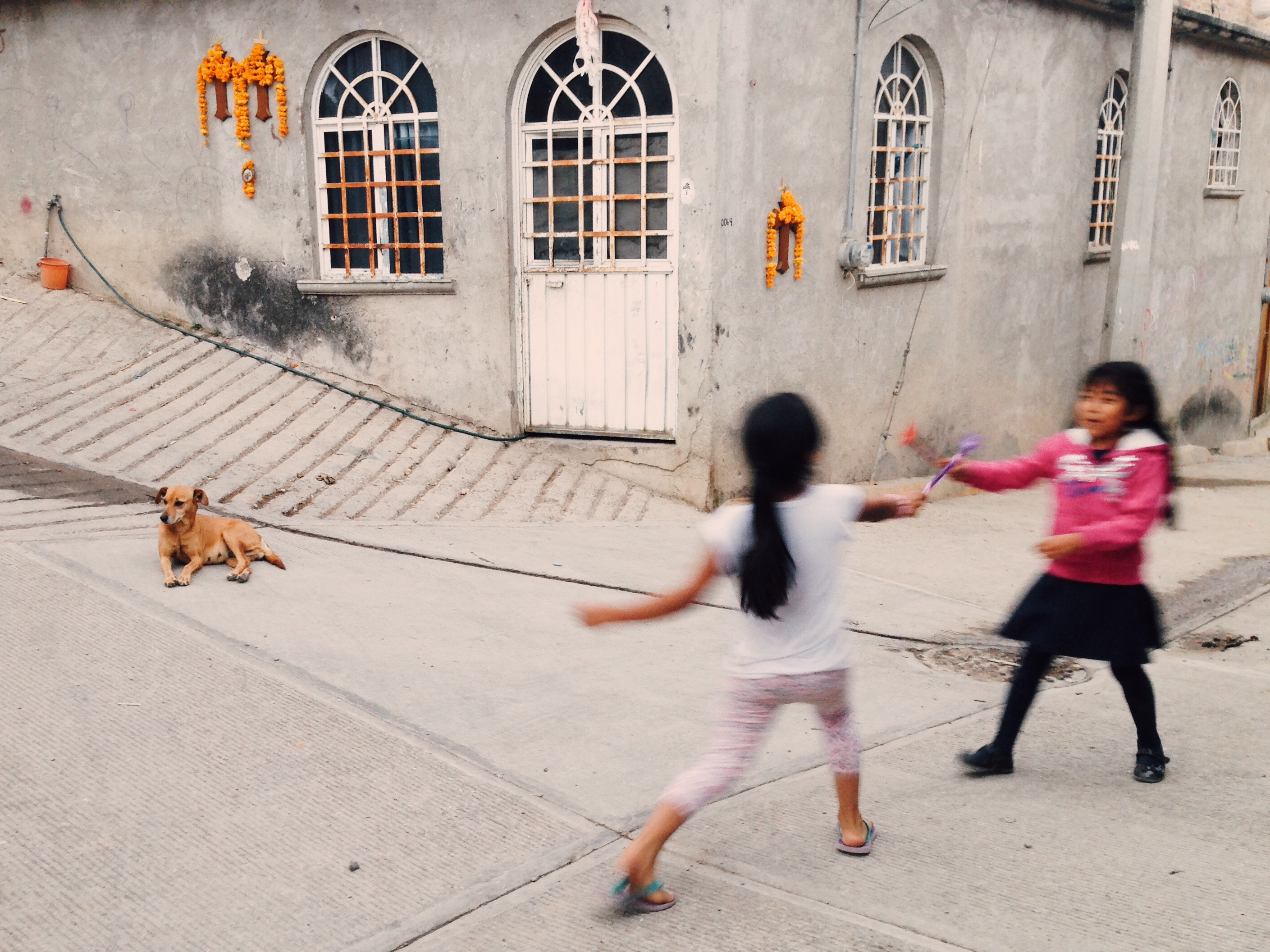 Girls play in front of the site where four members of the CRAC, an armed citizen police force, were killed by sicarios in November 2015. Tixtla, Guerrero. March 8, 2016.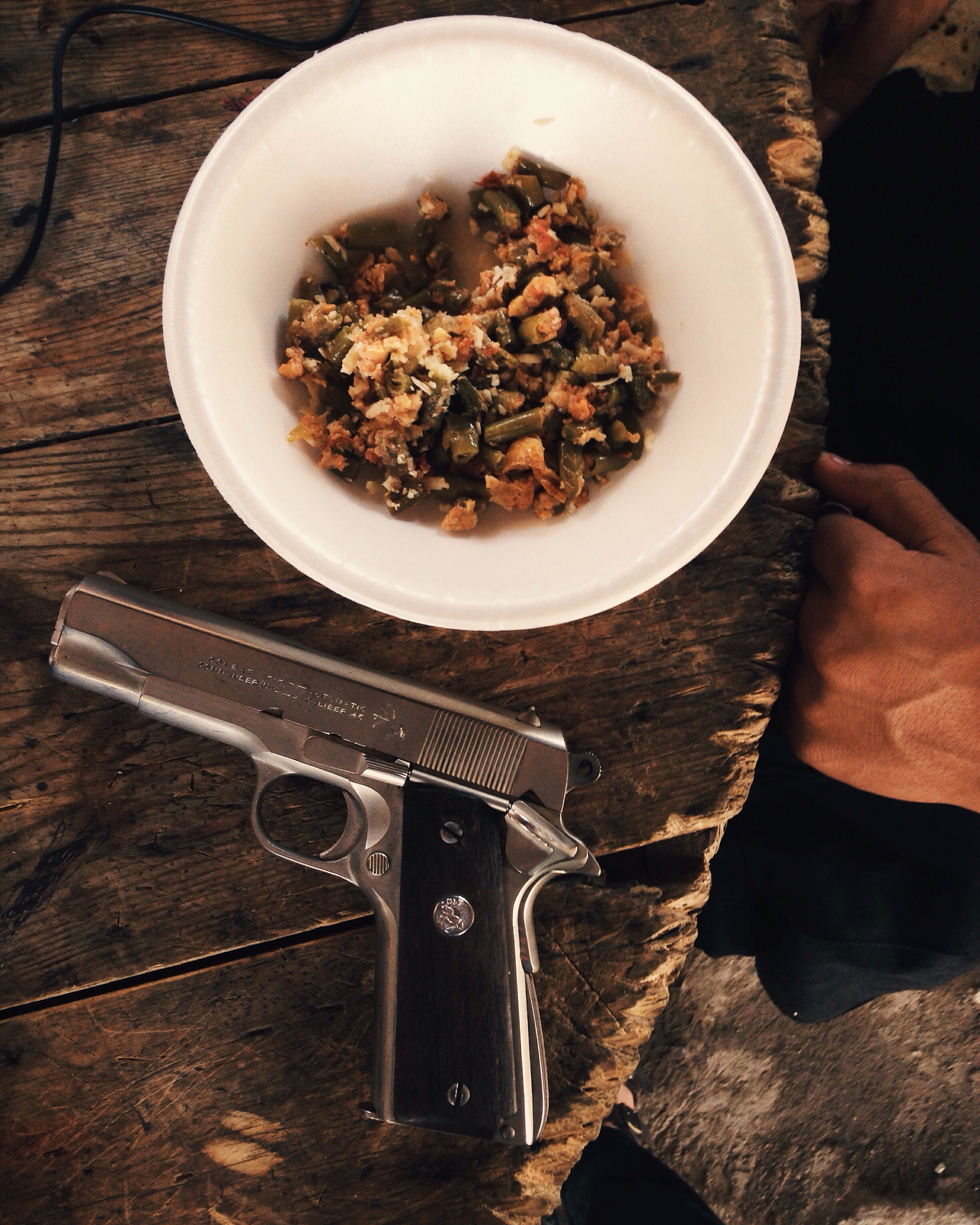 Base of the Regional Coordinator of Community Authorities (CRAC), an armed citizen police force. Tixtla, Guerrero. March 8, 2016.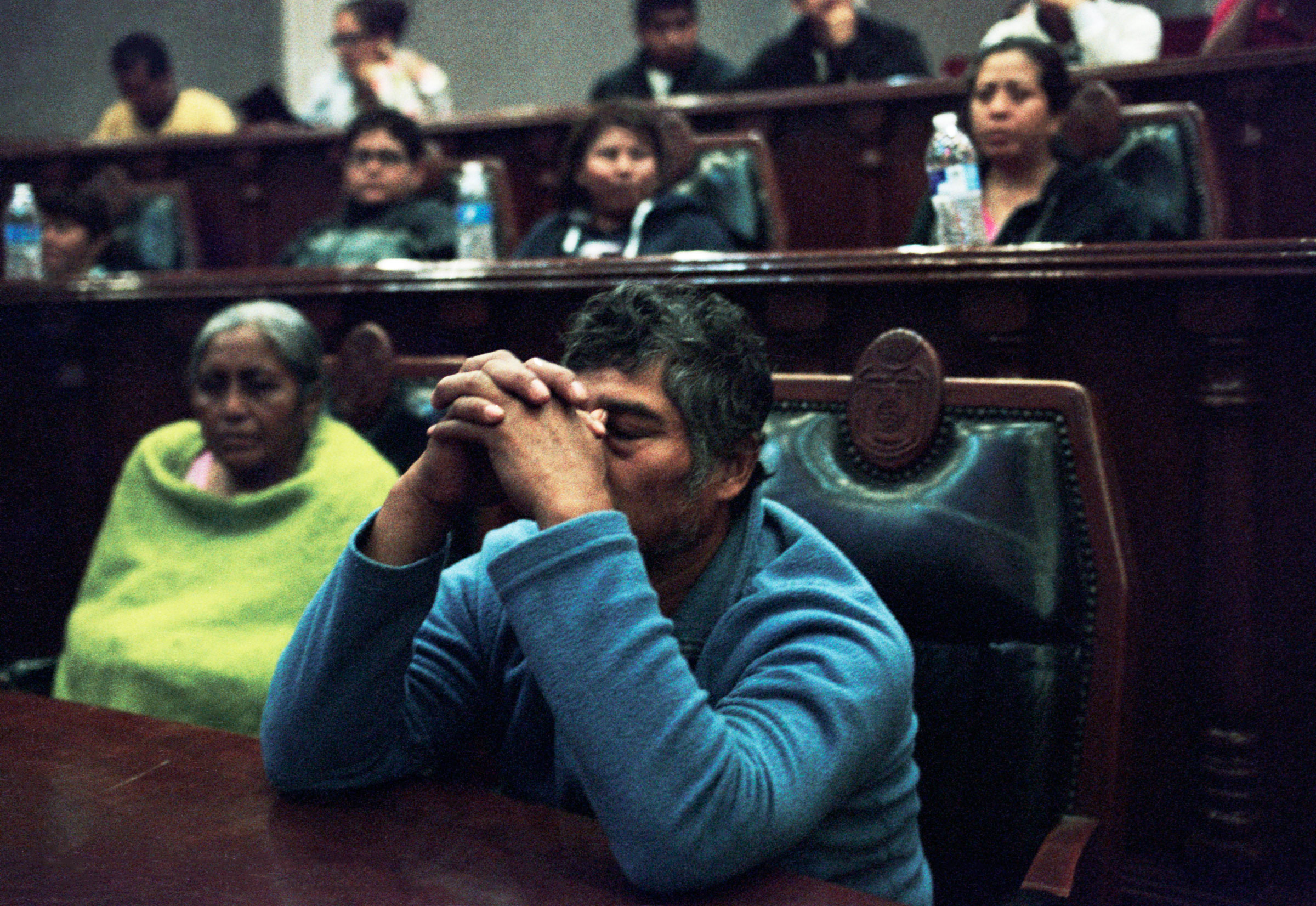 Bernabé Abraján, father of missing student Adan Abraján de La Cruz, at a meeting with the State Attorney General about missing surveillance footage from the night of the disappearance. March 9, 2016.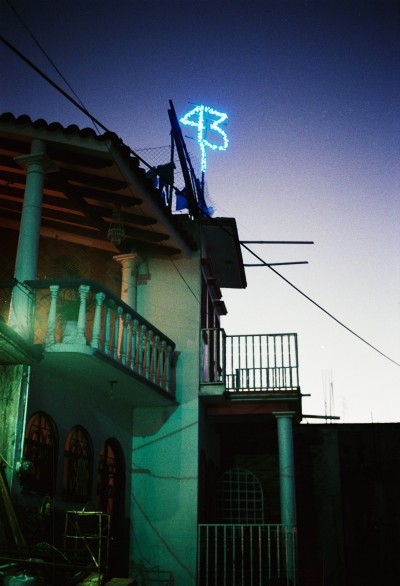 The number 43 lights up a family's rooftop down the road from Jose Ángel's house in El Fortín. 14 of the missing students come from Tixtla. February 1, 2015.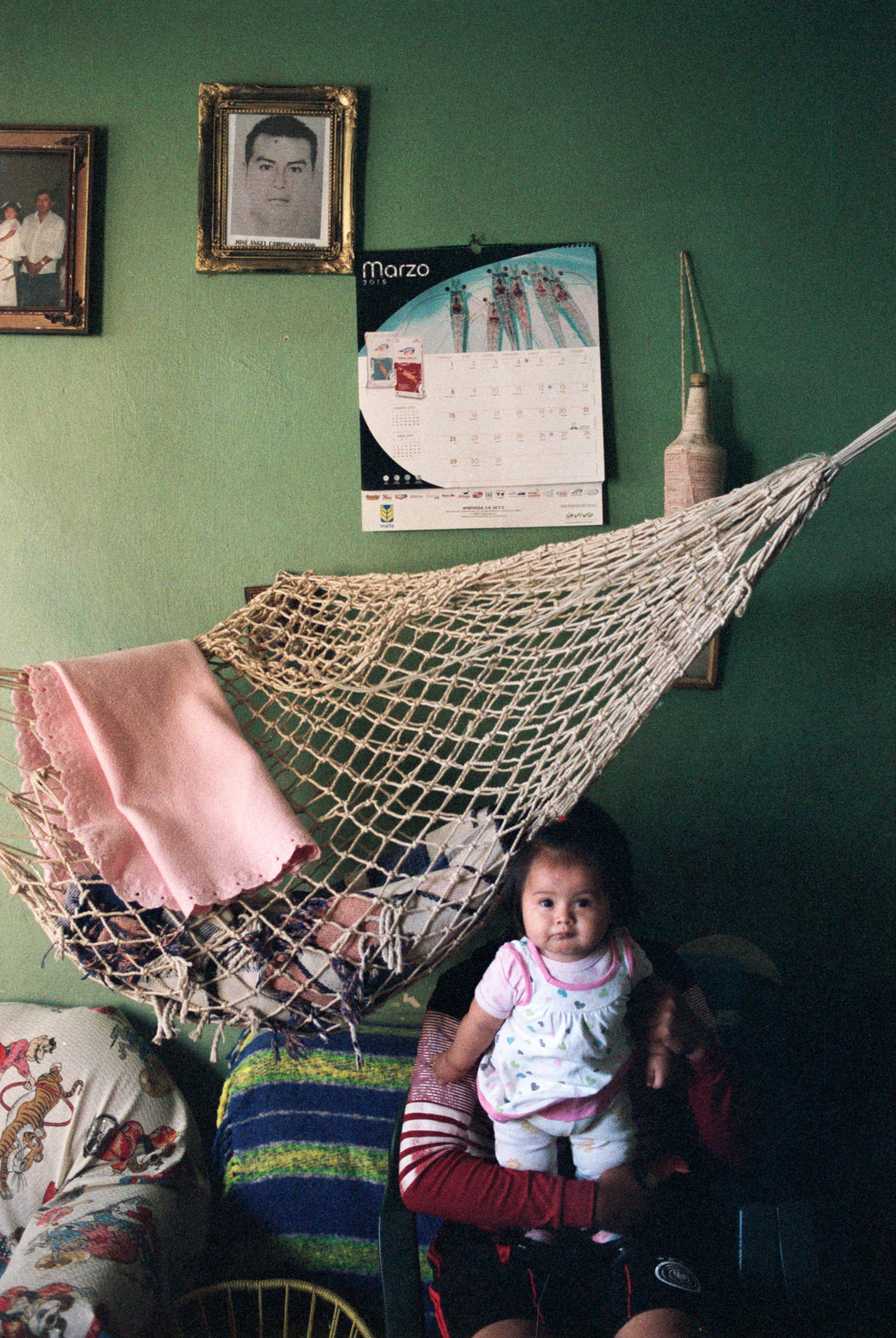 A relative holds Gaby, Jose Ángel's baby daughter. A portrait of him hangs on the wall behind her. His other daughter, America, is 8 years old. March 18, 2015.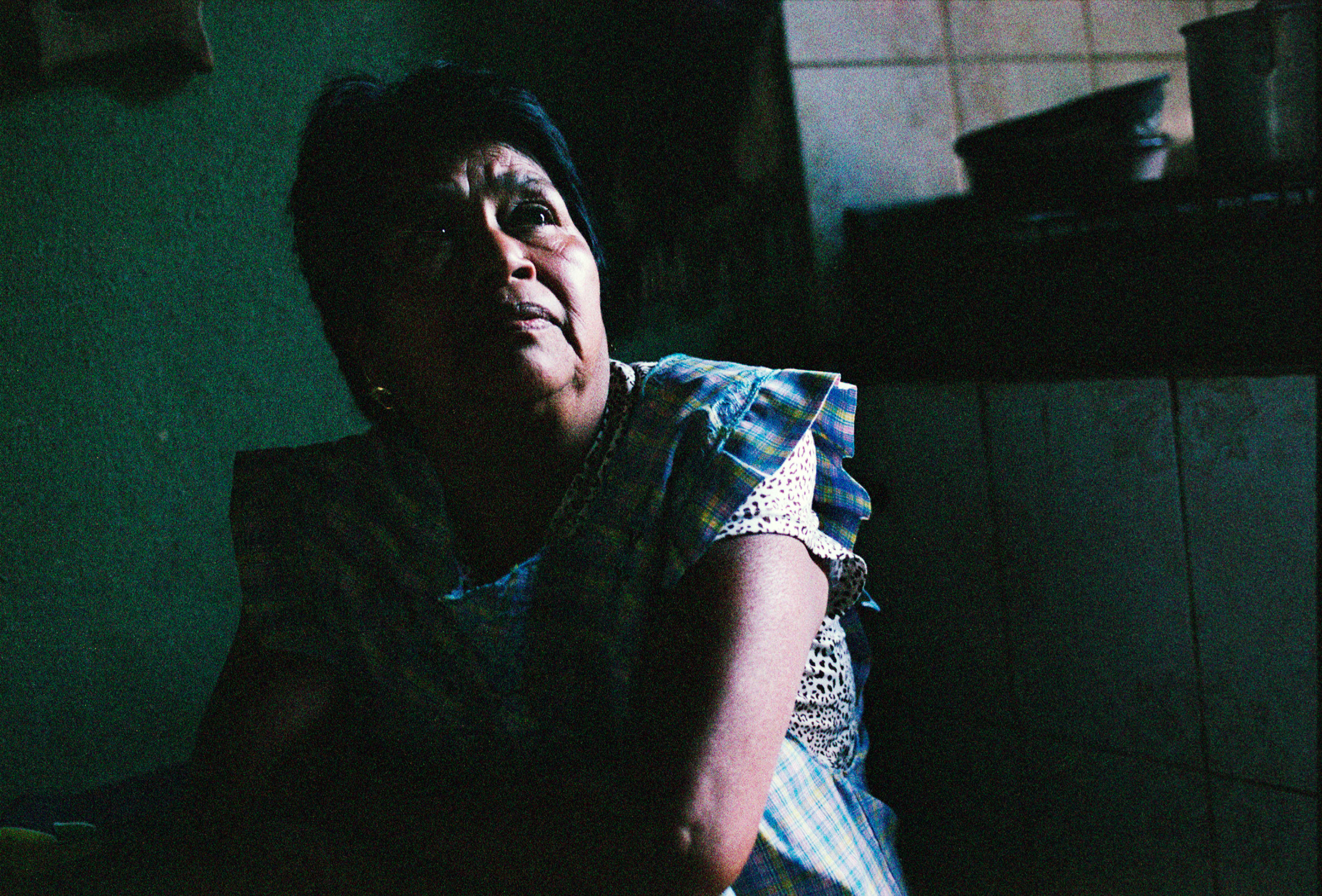 Romana, the mother of missing student Jose Ángel Campos Cantor, in her home in the Fortín neighborhood of Tixtla. March 2, 2015.
Letter From a Mother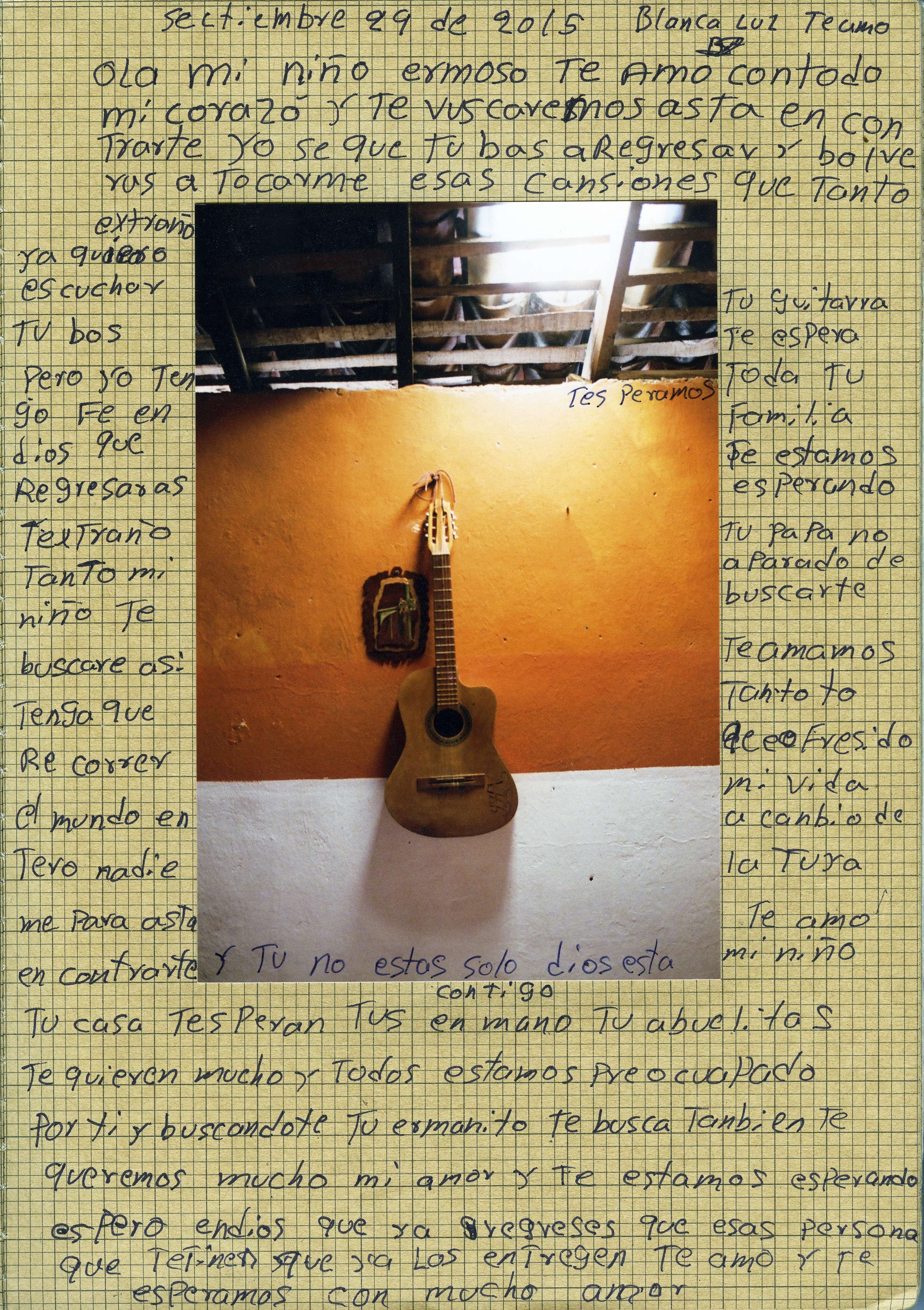 A letter from Blanca Luz Nava Vélez to her son Jorge Álvarez Nava. Her words are written around a photograph of Jorge's guitar hanging on the wall of their house in La Palma, Guerrero. He had turned 19 three days before he disappeared on September 26, 2014.
Hello my beautiful son. I love you with all my heart and we will look for you until we find you. I know that you'll come back and that you'll play me those songs I miss so much again. I want to hear your voice but I have faith in God that you'll come back. I miss you so much my son, I'm going around the whole world looking for you and no one can stop me until I find you. And you are not alone, God is with you. At home your brother and sisters are waiting for you. Your grandparents love you very much. We're all worried about you and looking for you, your little brother too. We love you so much sweetheart and we're waiting for you. I hope to God that those people who have you will give you back soon. Your guitar is waiting for you, the whole family is waiting for you. Your father has never stopped looking for you. We love you so much. I have offered my life in exchange for yours. I love you my son.
— Blanca Luz, September 29, 2015.